Ursuline Academy Students Attend United Nations Commission on the Status of Women in New York City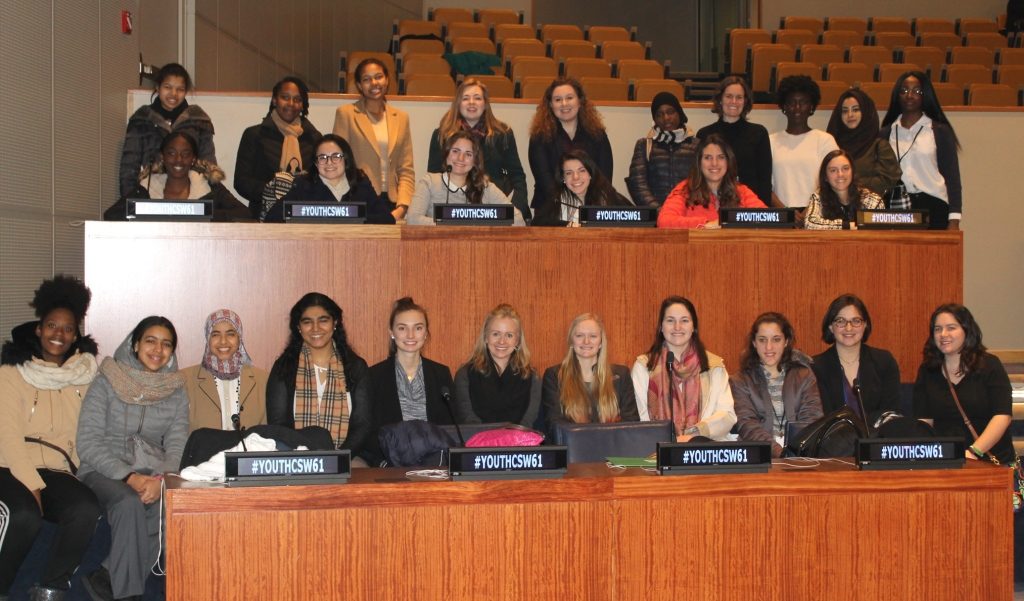 CINCINNATI, OH – April 6, 2017: Ursuline students Nadia Alam '18 of Montgomery, Noor El-Ansary '18 of Mason, and Kendall Hodgen '18 of West Chester, and Ursuline Social Studies faculty member Ms. Kelsey Bladh Randall '04 attended the sixty-first session of the Commission on the Status of Women at the United Nations Headquarters in New York City from March 13 to 17.
The Commission on the Status of Women is the principal global intergovernmental body exclusively dedicated to the promotion of gender equality and the empowerment of women. It is instrumental in promoting women's rights, documenting the reality of women's lives throughout the world, and shaping global standards on gender equality and the empowerment of women.
"It was fascinating but upsetting to learn how prevalent gender inequality is around the world, especially in our own country," said Kendall Hodgen '18. "I've learned that there is never a 'perfect' time to enact change, so we should all use our voices to better society now."
The main theme of this year's event was "Women and Girl's Economic Empowerment in the Changing World of Work." The Ursuline contingent attended a number of sessions presentations that included opportunities for audience members to ask questions. These presentations highlighted the importance of empowering young women internationally and emphasized the growing disparities between women and men in developing countries. The students and other attendees were encouraged to cross boundaries and invest in young girls' lives and education around the world.
"The Commission on the Status of Women has enhanced my understanding of women's standing around the world and empowered me to become involved," said Noor El-Ansary '18. "Whether advocating for girl's education or ending sexual harassment, this trip demonstrated actions that must be taken in order to make a difference and ultimately reach global equality."
---
Ursuline Academy is an independent Catholic college-preparatory school for young women in grades 9 –12. Founded in 1896 in Cincinnati by the Ursulines of Brown County, St. Martin, Ohio, the school has been located at 5535 Pfeiffer Road, Blue Ash, Ohio since 1970.