Ursuline Students Participate in Dr. Martin Luther King Jr. Day of Service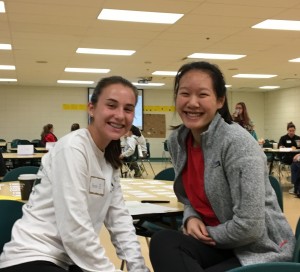 On January 16, in recognition of Martin Luther King Jr. Day, 59 Ursuline Academy students participated in the Dr. Martin Luther King Jr. Day of Service. The day of service is an annual opportunity made available by the Ursuline Community Service Program in order to serve external communities who are in need.
Students arrived at Ursuline at 9 a.m. to begin the day with prayer and a presentation on the work of Dr. King. Immediately following, students, accompanied by Ursuline faculty members and parent chaperones, visited seven sites throughout the Cincinnati community including InReturn, Kennedy Heights Art Center, La Soupe, Mason Food Pantry, Matthew 25 Ministries, Pregnancy Center East, and St. Joseph Home.
At the conclusion of the event, students returned to Ursuline for reflections on the day. The MLK Day of Service has become a tradition among students, making it an integral part of the service program at Ursuline. This year's Day of Service was led by Annie Longo '18 of Sharonville and Lauren Pham '17 of Liberty Township.
"The MLK Day of Service is a really inspiring way to put Dr. King's values into action," Pham said. "Spending the day with my Ursuline sisters in service gave me a chance to learn about each person in a new way, and we all value the opportunity to serve our community and learn more about our neighbors."
Each year, over 90% of Ursuline students participate in some dimension of the Community Service Program, even though Ursuline does not require service hours for graduation.