Utah bishop named to head Santa Fe Archdiocese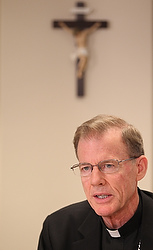 By Catholic News Service 
WASHINGTON — Pope Francis has accepted the retirement of Archbishop Michael J. Sheehan of Santa Fe, New Mexico, and named Bishop John C. Wester of Salt Lake City, Utah, to succeed him.
Archbishop Sheehan, who has headed the Santa Fe Archdiocese since1993, turned 75 last year, the age at which bishops are required under canon law to submit their resignations to the pope.
Bishop Wester, 64, is a San Francisco native who has since 2007 headed the Salt Lake City Diocese, which encompasses the entire state of Utah. He currently is a member of the Pontifical Council for the Pastoral Care of Migrants and Itinerant Peoples and chairs the U.S. bishops' Communications Committee.
The changes were announced in Washington April 27 by Archbishop Carlo Maria Vigano, apostolic nuncio to the United States.
Archbishop Sheehan was appointed to the Santa Fe Archdiocese initially as its apostolic administrator, when former Archbishop Robert F. Sanchez resigned amid allegations of improper conduct with several young women. Archbishop Sheehan was named successor to Archbishop Sanchez three months later.
Posted April 27, 2015