May issue preview: The festival guide is here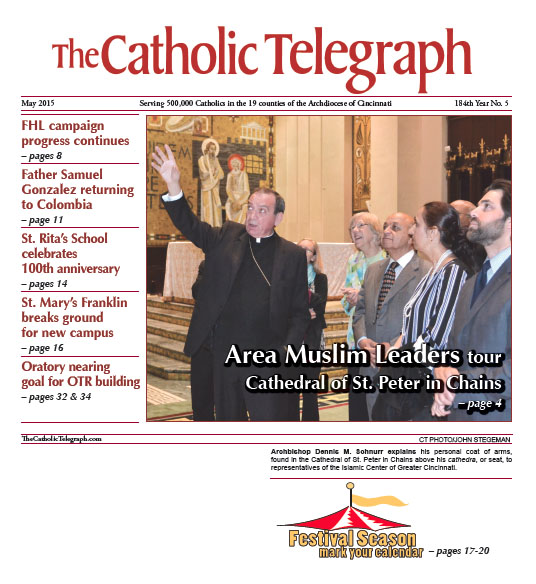 Staff Report
The May 2015 print edition of The Catholic Telegraph reaches mailboxes early this week and with it comes the most anticipated special section of the summer — the 2015 Festival Guide.
For years The Catholic Telegraph has been your one-stop source of information for all the Catholic church festivals in the Archdiocese of Cincinnati and this year's guide is our largest in recent memory with 98 festivals listed. That's up from 90 in last year's guide.
The guide will publish online later this week HERE.
The 2015 Festival Guide isn't the only highlight of the May edition. The cover story, originally published online, highlights a bridge-building tour of the Cathedral of St. Peter in Chains by Archbishop Dennis M. Schnurr with area Muslim leaders.
The issue also includes a preview of priestly ordination, and bios on the four men who will be ordained this year from the seminary.
Other stories include St. Rita's School for the Deaf celebrating its centennial, St. Mary's in Franklin breaking ground for a new building and additional updates from the One Faith, One Hope, One Love campaign.
Columnists Michael Daley and Jeanne Hunt return with new installments and The New Evangelization section notes the importance of love in evangelizing, along with a conversion story of saints as a "gateway drug."
Many of the stories from the May 2015 print edition will appear online over the course of the next month, but to make sure you don't miss a single story, subscribe to the print edition HERE at no personal cost.
Posted, April 27, 2015