Vatican Radio's Sean-Patrick Lovett accepts Daniel J. Kane Religious Communications Award [Video]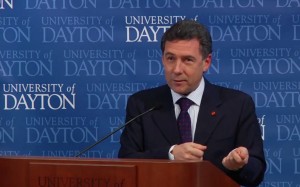 By John Stegeman
Sean-Patrick Lovett, Vatican Radio's director of English language programming, accepted the 2013 Daniel J. Kane Religious Communications Award from the University of Dayton's Institute for Pastoral Initiatives Jan. 31 in the university's Kennedy Union Ballroom.
(See video below)
Lovett received the award for his "outstanding lifetime dedication to Gospel values using mass media." In addition to his duties at Vatican Radio, Lovett is a professor of Communications at the Pontifical Gregorian University.
The award is named for Daniel J. Kane, former communication director for the archdiocese of Cincinnati. Last year's winner was filmmaker Martin Doblmeier.
"It is not a given to be recognized for what you do," Lovett said. "One doesn't do what one does in order to be recognized. One does what one does because one has to do it. At this stage, after 35 years, I don't know where I begin and my work ends. I am what I do at this stage. To be recognized not just for doing what you do but for being who you are is incredibly important."
In his 35 years in Church communication, Lovett has served four popes, edited a book by Mother Teresa and travelled around the globe as a war correspondent. While over that span the technology used in radio and other communications has evolved from magnetic tapes, to smartphone blog updates, Lovett said the Church's primary communications instrument isn't any particular technology.
"We are media," he said. "Its not about the technology, its about us, ourselves. We are the communications tool. Never has there been such a need for communication tools for people who are committed to what they believe."
Lovett always had a desire to communicate, participating in his first radio broadcast at the age of 5. Since catching on with Vatican Radio 35 years ago Lovett has lived that desire, helping to communicate the Church's message to an increasingly confused world.
"One of the key words in the world today is confusion," he said. "When I say that I grew up in a time that things were much easier, I really feel that. You knew who the good guys were and who the bad guys were. You knew where you stood … Unless one has a very clear idea in one's self about what one believes, and is ready to stand up for what one believes, one simply contributes to that confusion. Media becomes such a powerful tool in helping to clarify people's ideas, in giving them perspective on things."
Though sometimes the modern world has been critical of the Catholic Church's ability to communicate, Lovett pointed out that the consistency of message through the centuries has actually contributed to the Church's success.
"I have people from multi-national companies who come to my office and they want to know, 'How has the Catholic Church survived for 2000 years?'" he said. "It has survived because it is centered on a single person, the person of Jesus Christ. It proclaims exactly the same message, it never wavers from that message, it doesn't compromise on that message. That's difficult for a world that is all about compromise and confusion to understand. Media reminding people of the force, strength and power of that vision is more vital today than it ever has been."
Lovett first came to Dayton, Ohio in 1982 on a fact-finding mission for the Vatican. On that trip he met Sister Angela Ann Zukowski, now the director University of Dayton's Institute for Pastoral Initiatives. For the last seven years, he has also met with Chaminade scholars from Dayton during the trip to Rome, hosting their visit to Vatican Radio and other areas of the Vatican media center.
In conjunction with receiving the Kane award, a donation will be made in Lovett's name to provide a scholarship to an underprivileged student studying communications. While media constantly is evolving and changing, Lovett said that radio is still a thriving industry.
"Radio is alive and well and kicking," he said. "Vatican Radio is the grandmother of radio stations. Vatican Radio is 85 years old … One of the reason's we're still around after all this time is because we've been able to adapt to the novelties in technology and move with the times. We've gone from broadcasts to podcasts, from short-wave transmission to Facebook, Twitter, whatever is out there. Whatever the new technology brings, radio is able to adapt to that because the core of radio is sound."
Vatican Radio is available online at en.radiovaticana.va.
Complete List of  Daniel J. Kane Award Winners
2013Sean-Patrick Lovett
2012 Martin Doblmeier
2011 Living Water Community
2010 Most Reverend Daniel J. Pilarczyk
2008 Bishop G. Anthony Bosco, D.D.,J.C.L.
2007 St Anthony Messenger Press
2004 Marjorie Gaffney Weeke
2003 Gerard  T. Straub
2001 Reverend Peter Malone
2000 Elizabeth Thoman, CHM
1999 Reverend Virgilo Elizondo
1998 Reverend John Geaney, CSP
1997 Reverend Owen F. Campion
1996 Henry Hertx
1995 Reverend Pierre Babin, OMI
1994 Jack and Pat Shea
1993 John Catoir
1992 Joe and Sally Cunneen
1991 Robert B. Beusse
1990 Reverend Miles O'Brien Riley
1989 Dale Francis
1988 Sr. M. Irene Fugazy
1987 Reverend Ellwood Kieser, CSP
1986 Daniel J. Kane