Vietnamese Community Revitalizes Youth Program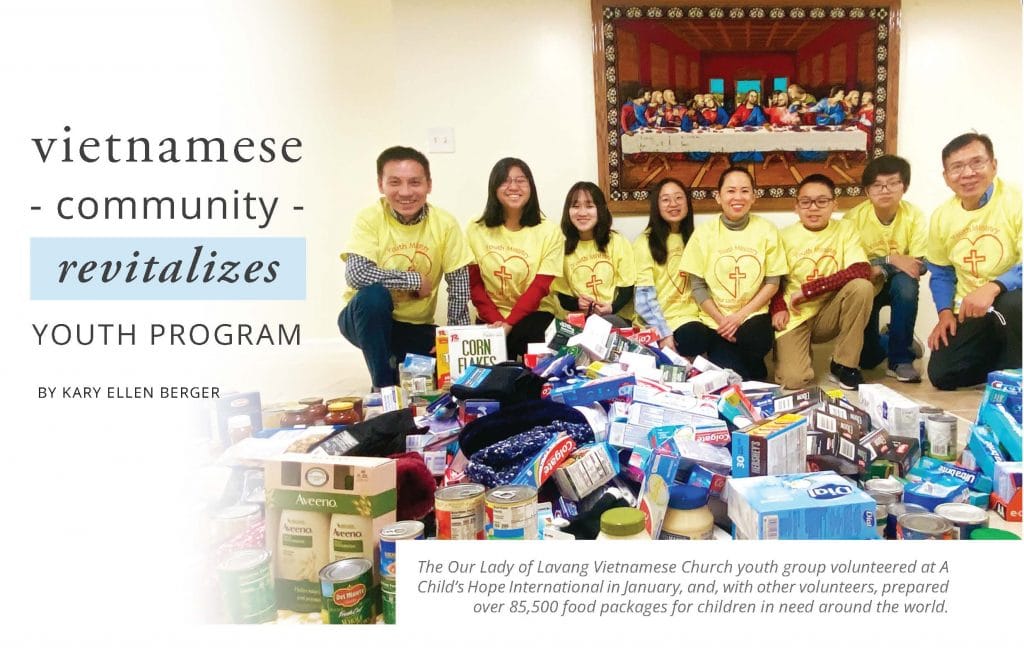 Youth and parishioners are coming together at Our Lady of Lavang Vietnamese Community to both encourage each other and support the greater Cincinnati community. It began last fall when Father Vincent Pham Minh Châu, the parish priest, suggested reviving the church's youth program.
Twenty years earlier there had been a youth group, but it dissolved when the youth aged out. Thuy Dinh was an original member in the program. "I was nine when I came to the U.S.," Dinh said. "There was a youth group [for many years] and then for some reason there was no one to place in the youth group anymore."
When Father Pham asked if anyone was interested in restarting the youth program, Dinh said yes. "My family was like, 'Why did you say yes? What were you thinking?'" Dinh shared. "And I said I had no idea. There was a force somewhere – God was calling me. God was wanting me to do this. It's definitely a full circle moment."
Now Dinh leads the youth ministry and dozens of children gather monthly to make a difference. For their first service activity in December, the group volunteered during an event at Our Lady of the Holy Spirit Center – a location with special meaning to their parishioners.
"I picked that location as our first choice because I also grew up at the Holy Spirit Center," Dinh explained. "Our community never had our own church. The Holy Spirit Center helped our community have so many Masses there."
During the December event, youth members worked in an art area, served food or greeted attendees. In January, they prepared meals at A Child's Hope International. Dinh said that for each group activity, youth are encouraged to give back with more than just their time by bringing either a monetary donation or an item to be donated, depending on the activity they're supporting. This goes back to the group's patron saint, Mother Teresa, said Dinh.
"Like Mother Teresa, we are doing what we can," Dinh said. "She served the homeless and did ministry work. We are all in her guidance and are trying to do the same thing."
Program participants receive not only the joy and experience of helping others, but also help themselves for the future. "Community service is important for scholarships and some of the children's parents may not know that because of a language barrier," Dinh shared. "We help the children with these community service opportunities and give them information about available college courses and tests."
"We don't want to stop," Dinh noted. "We also want to grow – we hope to get older kids to lead the youth program later on and that this group goes on for a long time."
This article appeared in the March 2022 edition of The Catholic Telegraph Magazine. For your complimentary subscription, click here.