Vocations View: Lent provides fuel for discernment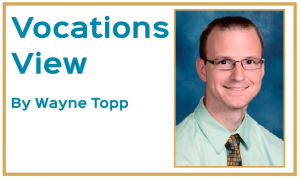 Treatises on discernment are many and varied throughout the great tradition of the church.
There are spiritual masters who have written whole books on how to discern your vocation and many who have written books on the spiritual masters who have written about discernment. Yet, the common problem that we in vocation ministry always run into is young men and women who have no idea what discernment is or how to go about it.
We often refer them to the great works of the spiritual masters, but often times, this is not a good starting point. The depth of knowledge and spiritual maturity of these masters can often overwhelm someone new to the idea of discernment. Instead, let us begin simply: pray, fast and give.
Lent gives one who is considering a call to the consecrated life the perfect opportunity to begin or deepen his journey of discernment. Praying, fasting and almsgiving are three critical pieces of any discernment journey. In order to know what the Lord has in store for us, we must make our lives like new wineskins ready to receive the new wine that Jesus desires to give us (cf. Luke 5: 37-38). Therefore, we must fast in order to train our will to desire only what God desires, we must give, so that we can free ourselves of the material attachment to this world and we must pray that we can become most attune to the voice of the one who calls (cf. John 10:4).
In the Gospel for the First Sunday of Lent we heard the story of Jesus going out into the desert to pray. He entered His 40 days in the desert to be "tempted by the devil. To us it seems strange that Jesus would go out of his way expressly to fight with the devil, but perhaps he knows the fight is coming and goes out in the desert to fight the devil because he doesn't want to fight him in the midst of his daily life. Jesus recognizes that there are forces of temptation that we all have to deal with and he gives us the great example of going out to meet those temptations head on. He doesn't wait for the moment to spring up in His daily life, He spends time physically and spiritually preparing Himself to face those temptations and when they come, he is ready.
During Lent we do the same thing, and it is for this reason, the church gives us this great season. For all those discerning the path God has planned for us in this life, this season of Lent gives us an opportunity to enter the desert with Jesus and to face those temptations that have led us away from the purpose for which God created us.
May we all find a newfound commitment to the Lenten disciplines of prayer, fasting and almsgiving, all with the knowledge that it is through these simple practices and the grace of God that we can come to truly desire what we should, love what we should and follow Who we should. Through this, we will become the person God created us to be and, like Jesus, leave the desert ready to fulfill our mission.
Wayne Topp is the assistant director of the Vocations Office for the Archdiocese of Cincinnati.

This Vocations View column first appeared in the March 2016 print edition of The Catholic Telegraph.