Want to bolster families? Return to Gospel concepts of freedom, fidelity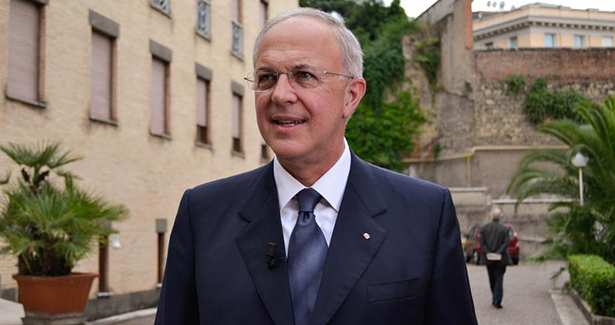 By Matt Hadro CNA/EWTN News
WASHINGTON, DC — The Church must work to strengthen the family by helping couples practice Christian concepts of virtues if it wishes to "open wide the doors to Christ" in the vision of St. John Paul II, the head of the Knights of Columbus said on Wednesday.
"We have often heard that the family is at the center of the New Evangelization. This means that there must be greater pastoral care and formation of families at the parish level. We must pray that this will be one of the fruits of the recent Synod on the Family and of the upcoming World Meeting of Families to be held in Philadelphia," Supreme Knight Carl Anderson said Oct. 29 at the Catholic Information Center's New Evangelization Award Dinner in Washington, D.C.
Anderson and his wife Dorian were recipients of the Saint John Paul II Award for the New Evangelization, given to "those who have demonstrated an exemplary commitment to proclaiming Christ to all peoples."
The Andersons were appointed by Benedict XVI to the Pontifical Council for the Family in 2007, and they are both members of the Equestrian Order of the Holy Sepulchre of Jerusalem.
The family is at the heart of the New Evangelization, but many Catholic marriages are ending in divorce, Anderson noted.
"There are many, many families today that will end in divorce because they will not survive the pressures of contemporary society unless they receive help," he insisted.
Anderson explained to CNA after the dinner that the Church should emphasize the sacrificial, Christ-like nature of marriage since the institution has been secularized.
"We're in such a secularized society and culture that we really need greater formation of what it means to be a disciple of Christ in marriage. And how, if in marriage, we're called to sort of testify to God's love – how do we do that every day with our spouse?"
He continued, "I think again it goes back to the pervasiveness of secularism, where many concepts have become secularized. So our concept of freedom, our concept of faithfulness, our concept of love … we have to say wait a minute, take a step back. What is the Gospel understanding of fidelity of love? Of mutuality? Of self-gift?"
"If marriage is to be a reflection of Christ's love for the Church, sacrificial love, then what does that mean in terms of forgiveness, reconciliation? Those are big issues. And I'm not sure that it's thought through enough," he said.
Formation in the virtues should begin earlier in a child's life, he continued, as a remote preparation for their vocation, be that marriage or priesthood or religious or consecrated life.
"I think we need to admit – or realize maybe is the better word – that our formation needs to begin much earlier. That given what's happened with the internet culture, by the time our children get to be 12, 14 years of age, they're much more experienced, sadly, in a lot of these problems, than maybe 30, 40, 50 years ago," Anderson said.
"I think there's so many young saints, they had vocations at a very young age. And so we shouldn't begin waiting until 20, 22, 24, to begin speaking of your vocation. Maybe we should speak to 10 year-olds about their vocation," he concluded.
Posted Nov. 1, 2014