Mother and grandmother recalls journey to religious life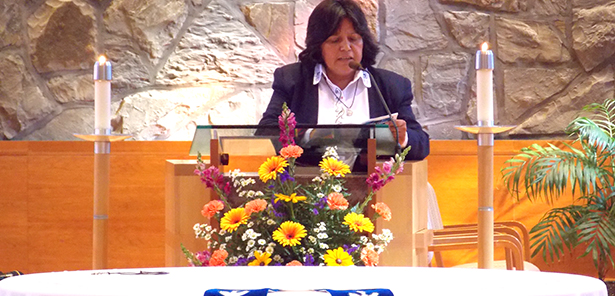 By Eileen Connelly, OSU
The Catholic Telegraph 
As a young girl growing up in Mexico City, Sister of Notre Dame de Namur Cristina Garces dreamt of becoming a doctor and a missionary, of traveling the world to help others in need. She came to realize, though, that her plan wasn't God's plan, and now, looking back, she wouldn't have it any other way.
One of seven children raised in a very religious family, Sister Cristina's plans were sidetracked when she fell in love, married and had a beautiful baby girl named Yectivani. She attempted to continue her studies, but motherhood took priority.
"When I was away studying, my daughter would cry and ask for my presence. I wanted and needed to be with her," Sister Cristina said.
Her marriage was eventually annulled and, in 1992, mother and daughter moved to Glendale, Calif., to be near other family members already living in the United States. Sister Cristina worked a variety of jobs over the years and became actively involved in her local parish. She particularly enjoyed working with the homeless, helping with bereavement ministry and teaching Bible study.
"I was very happy serving the people," she recalled.
As her daughter grew older, married and started a family of her own, Sister Cristina's thoughts returned to the plan of her youth and she realized "that I wanted to give my life 100 percent to God and to serving other people."
She sent inquiries to many religious orders as she began the discernment process. Among the communities to respond was the Sisters of Notre Dame de Namur. She was drawn to the community's focus on both education and service to the poor and, in 2005, moved to Phoenix, Ariz., as part of the Notre Dame Mission Volunteers AmeriCorps program. As a teaching assistant in a public school, she worked with young children in kindergarten through the third grade who needed extra help with their studies.
"It was my job to help them understand," she explained. "It was challenging, but I loved it."
She also served at a shelter caring for unaccompanied immigrant children who had fled danger and poverty in Guatemala, El Salvador and Honduras.
"Their stories were heartbreaking," Sister Cristina recalled.
Her initial formation in the religious community complete, Sister Cristina traveled to Cincinnati in late August, and on Sept. 8, entered the novitiate with the Sisters of Notre Dame de Namur. Her daughter and grandsons, Matthew and Aaron, were thrilled, she said.
"My daughter wishes I had stayed closer to where she lives, but she knows my heart and my desires," Sister Cristina noted. "My grandsons are proud that Grandma is a sister. I tell them that I live with a group of other women who love Jesus Christ and want to serve Him."
Sister Cristina is currently a fulltime student at Mount St. Joseph University, where she is pursuing a bachelor's degree in religious studies. She hopes to eventually become involved in pastoral ministry or religious education among the local Hispanic population.
"I see the great, great need that is there to help people in their spiritual lives," she explained. "I see people in poverty, people who are suffering. They think they don't deserve to be close to God. I want to help them grow closer to God again. Once they are, they will have better lives."
In addition to her studies, Sister Cristina is also enjoying the opportunity to get to know the other sisters, pray with them and become more familiar with their lives and ministries. As she reflects on her journey to religious life, she feels God's plan for her is coming to fruition. "I truly believe that God wants me to be a doctor in the Spirit, not in the body," she said.
This story originally appeared in the Vocations section of the November 2014 print edition of The Catholic Telegraph.