Wapakoneta man wins award for patriotism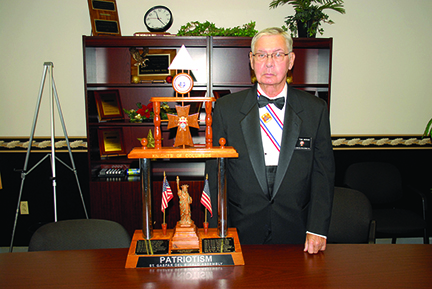 By Eileen Connelly, OSU
Tom Moran of St. Joseph Parish in Wapakoneta loves God and his country, serving both with hard work and quiet dedication.
His efforts were recognized in early December when Moran was awarded the 2012 Patriotism Award through the fourth degree Knights of Columbus during the organization's holiday party at the K of C hall in Versailles. The prestigious award, which honors a member's personal demonstration of American patriotism, has been bestowed annually by the St. Gaspar del Bufalo Council since the early 1980s.
"I was really surprised. I had no idea I was going to receive the award," said Moran, who has been married to his wife, Judy, for 57 years. The couple has seven children, one deceased, 12 grandchildren and 12 great-grandchildren.
Now retired from Moran Refrigeration Incorporated in St. Marys, Moran has been a member of the Knights of Columbus, third degree, for the past 20 years. He became involved with the Knights at the encouragement of friends. "I was also fascinated when the Knights came into church with their caps and swords, escorting the bishop," admitted Moran, who has been a member of the fourth degree for five years. The primary purpose of the fourth degree is to foster the spirit of patriotism and to encourage active Catholic citizenship.
Those who know Moran say he exemplifies the organization's dedication to the principles of charity, fraternity, unity and patriotism. Dave Severt, who nominated Moran for the Patriotism Award, said he regularly attends third and fourth degree meetings, assists at chicken and fish fries and proudly dons his full regalia for confirmations, funerals and other events. "Tom isn't the kind of guy who does things to be recognized," Severt said. "He's just interested in doing the right thing, helping where he can and getting the job done. He likes to work behind the scenes in his quiet way."
One way Moran demonstrates his patriotism is as a member of his local chapter's Knights of Columbus Flags of America Team. Last June 14, Flag Day, he attended a special ceremony in Columbus, representing his local Knights for the state of Ohio during a patriotic presentation.
His nomination for the Patriotism Award was evaluated by officers from the local assembly, who then chose Moran as the 2012 recipient. For the next year, Moran will be the keeper of a three-foot tall award, which features the painting of an eye at the top. According Knights of Columbus members, it represents "the all seeing eye of God because He sees us in what we do and He sees what we see with our hearts."
Moran said God and country are definitely close to his heart.