Editor's Note: Catholic schoolyard witness to charity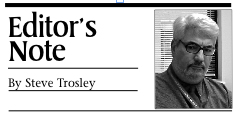 I attended Catholic grade school in the halcyon years when pastors wondered where they were going to put so many children.
Our playground was so crowded the older boys were assigned a driveway that curved past a side entrance to the church and the rectory main entrance.
We played unruly and unsupervised games of touch football, often tearing trousers and scraping skin on the concrete paving or brick walls that marked out-of-bounds. We all wanted to be on the team with the quarterback who could hit a receiver by throwing over the portico and under the sycamores that protected part of the drive.
One day, a raggedy man walked to the door of the rectory. This was not unusual as the neighborhood was a pass through from the railroad yards for men down on their luck. He dragged one leg and it looked like some time had passed since his clothing had been laundered. Father Robert Rebert, one of the two associate pastors of our large parish, answered the door.
Father Rebert, who died in 2007, was very tall. He had a patrician bearing, was fastidious — the altar society ladies gossiped that his suits were tailored — and to those of us who were servers, he was the priest who brought his own vestments, wine and buffed his shoes before saying Mass, which we thought strange.
The man spoke with Father Rebert who reached into his pocket. The man put his hands up and vigorously shook his head no. He gestured towards his feet. Father Rebert retreated back into the rectory and returned what seemed like an eternity later. He was carrying a pair of his own shoes, all polished and looking like new.
The man took the shoes and left, dragging his leg as he walked back towards the downtown business district. I noticed then that his shoes were in even worse shape than his clothing.
As the son assigned to polishing the family shoes each Saturday evening, I appreciated footwear. We only bought shoes from Frank Sax downtown because he priced the good brands so they were affordable. Mr. Sax would explain why one brand was better than another and what to look for in a really well-made shoe. His choice was also Father Rebert's choice: Florsheim. I was also in charge of taking damaged and worn family shoes to Tony "the shoemaker" Militello for repairs. There I learned about polishing and cleaning leather, dyeing and waterproofing.
We were blue-collar people who marked time by factory whistles. Shoes were a big deal. Giving away a practically new pair of Florsheims was a huge deal. What I witnessed was beatitude quality behavior.
With Catholic Schools Week — a good portion of this edition is dedicated to that event — just passed, it occurs to me that had I not attended a Catholic grade school, I would not have seen first-hand Father Rebert's act of charity and learned the important lesson it taught.
In addition to the classes in religion, English, math, history, civics, science, geography and so on, taught by our Ursuline teachers, we were also daily witnesses to the selfless and generous acts by the priests and Sisters — and lay people — who lived the values and standards born of the teachings of Christ's church.
+ + + + + +
Steve Trosley is editor-in-chief of The Catholic Telegraph.