Week 2 standings and Week 3 opponents for Catholic HS football teams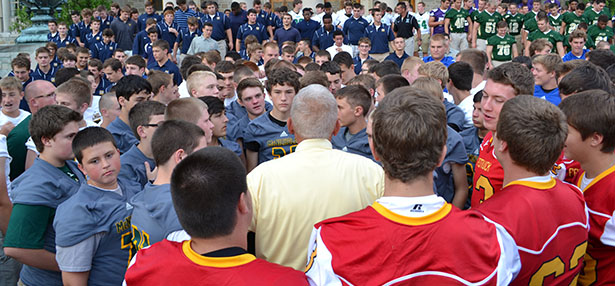 Staff Report
The Catholic schools of the Archdiocese of Cincinnati went 11-4 in opening week of the season, and with week two in the books all but two schools have put a notch in the win column.
Here are the standings through week two with week three's opponents listed. For more information on game dates, times and location, see the HS football Master Schedule.
Fun Fact: Matchup of titans on tap for tonight. The LaSalle Lancers (2-0), defending Division II state champions, take on Colerain (2-0) at home. Colerain is ranked No. 9 nationally by USA Today. In local polls by the Cincinnati Enquirer, the Lancers sit atop the Division II poll while Colerain leads Division I. LaSalle defeated Colerain 40-21 last season.
Team                                  Week 1 Record                Week 2 opponent
GCL Co-Ed Standings
North
Alter                                        2-0 (0-0)                   at Kettering Fairmont (0-2)
Fenwick                                   2-0 (0-0)                   at Monroe (1-1)
Carroll                                     1-1 (0-0)                   at Shawnee (0-2)
Chaminade Julienne                  0-2 (0-0)                  at Meadowdale (0-2)
Central
Badin                                     2-0 (0-0)                   Edgewood (2-0)
Roger Bacon                           2-0 (0-0)                   at Western Hills (0-2)
McNicholas                             1-1 (0-0)                   Wyoming (2-0)
Purcell Marian                         1-1 (0-0)                   at Walnut Hills (1-1)
GCL South
LaSalle                                   2-0 (0-0)                   Colerain (2-0)
Elder                                      2-0 (0-0)                   Scott Co. (KY) (3-0)
Moeller                                   1-1 (0-0)                   at Xenia (0-2)
St. Xavier                               1-1 (0-0)                   Mentor (2-0)
Other Catholic Schools
Summit  Country Day               2-0 (0-0 MVC)                  at Reading (2-0)
Catholic Central                       1-1 (0-0 OHC)                  Bradford (0-2)
Lehman Catholic                      0-2 (0-0 NCC)                  Graham Local (1-1)
Posted Sept. 11, 2015