Throwback Thursday: Did Cincinnati almost get a papal visit?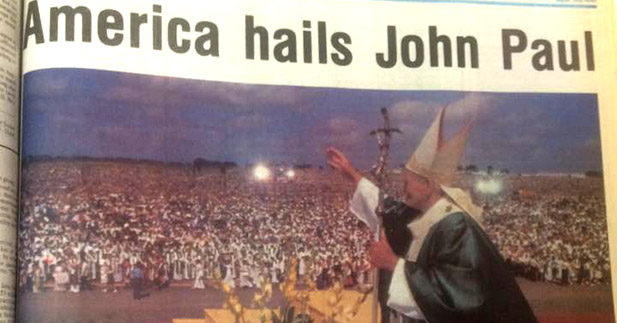 Staff Report
Later this month Pope Francis will visit the United States for the first time in his pontificate. Papal visits to the U.S. aren't new, but they're always newsworthy and Pope Francis will make history by addressing a joint session of congress.
Popes have visited many major U.S. cities, but the Archdiocese of Cincinnati has never hosted a reigning pontiff — but maybe once we came close thanks to the efforts of Archbishop Emeritus Daniel E. Pilarczyk.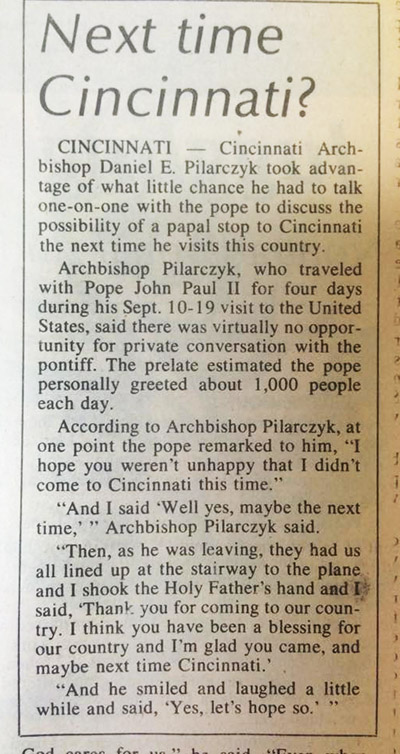 In 1976 as a cardinal, Karol Wojtyla, visited the Archdiocese of Cincinnati and a photo from the CT shows his then-eminence meeting with Archbishop Joseph Bernardin at the Cathedral of St. Peter in Chains. Three years later he was back in the U.S. as Pope John Paul II visiting New York, Philadelphia, Chicago and Washington D.C. He came back again in 1981, 1984 and 1987.
In 1987 Archbishop Pilarczyk was the vice president of the National Conference of Catholic Bishops and was with the Holy Father as he visited Miami. The brief article attached at right details discussions between Archbishop Pilarcyzk and the now-sainted John Paul II concerning Cincinnati.
The pope remarked, "I hope you weren't unhappy that I didn't come to Cincinnati this time." And Archbishop Pilarcyzk responded, "Well yes, maybe the next time."
They next spoke as the Holy Father prepared to depart the country.
"Then, as he was leaving, they had us all lined up at the stairway to the plane and I shook the Holy Father's hand and I said, 'Thank you for coming to our country. I think you have been a blessing for our country and I'm glad you came, and maybe next time Cincinnati," Archbishop Pilarcyzk recounted.
According to the archbishop, Saint John Paul II responded with a laugh and a smile.
"Yes, let's hope so," the pontiff said.
Pope John Paul II visited the U.S. again in 1993, 1995 and 1999, but never made it back to the Archdiocese of Cincinnati.
To follow Pope Francis' visit to the United States later this month, check out the official schedule posted by the USCCB HERE.
Welcome to The Catholic Telegraph's edition of Throwback Thursday. Throwback Thursday is a weekly online activity wherein users of social media share an old photo or anecdote about times gone by. We use Throwback Thursday to highlight the history of the Archdiocese of Cincinnati, and our publication.
Recent Throwback Thursdays
Sisters of the Poor rich in… Elephants?
Summer riding off into sunset
Archbishop installs neighboring bishop
Cutting edge tech in Catholic school in 1962
Remembering the Ice Bucket Challenge
Posted Sept. 10, 2015