Week 3 standings and Week 4 opponents for archdiocese Catholic HS football teams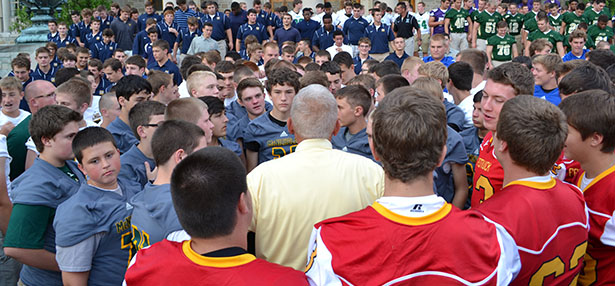 Staff Report
Ever wanted to find the current season records for all the Catholic high school football teams in the Archdiocese of Cincinnati? Your search is over.
Though most of the archdiocese's Catholic high schools compete in the Greater Catholic League (GCL), they play in different divisions (GCL Co-ed, GCL South). Additionally, Catholic Central (Ohio Heritage Conference), Lehman Catholic (Northwest Central Conference) and Summit Country Day (Miami Valley Conference) are not part of the GCL.
For the remainder of the season we'll be posting the collected standings and weekly opponents of all of our Catholic high school football teams here each Friday.
Team                                  Record                Week 4 opponent
GCL Co-Ed Standings
North
Alter                                        3-0                    Fenwick (1-2)
Carroll                                     2-1                    at Chaminade-Julienne (2-1)
Chaminade Julienne                 2-1                    Carroll (2-1)
Fenwick                                  1-2                    at Alter (3-0)
Central
Badin                                      3-0                   at Roger Bacon (2-1)
McNicholas                              3-0                   Purcell Marian (2-1)
Purcell Marian                         2-1                   at McNicholas (3-0)
Roger Bacon                           2-1                   Badin (3-0)
GCL South
LaSalle                                   3-0                    at Fort Wayne Bishop Dwenger (IN) (4-0)
Moeller                                   3-0                    at St Xavier (Louisville) (KY) (3-1)
Elder                                       2-1                   Lakewood St Edward (3-0)
St. Xavier                                 2-1                   at Indianapolis Cathedral (IN) (1-2)
Other Catholic Schools
Summit  Country Day               3-0                  St Bernard-Elmwood Place (0-2)
Lehman Catholic                      1-2                  at Perry (0-3)
Catholic Central                       0-3                  West Liberty-Salem (3-0)
Posted Sept. 19, 2014