When mom has alzheimer's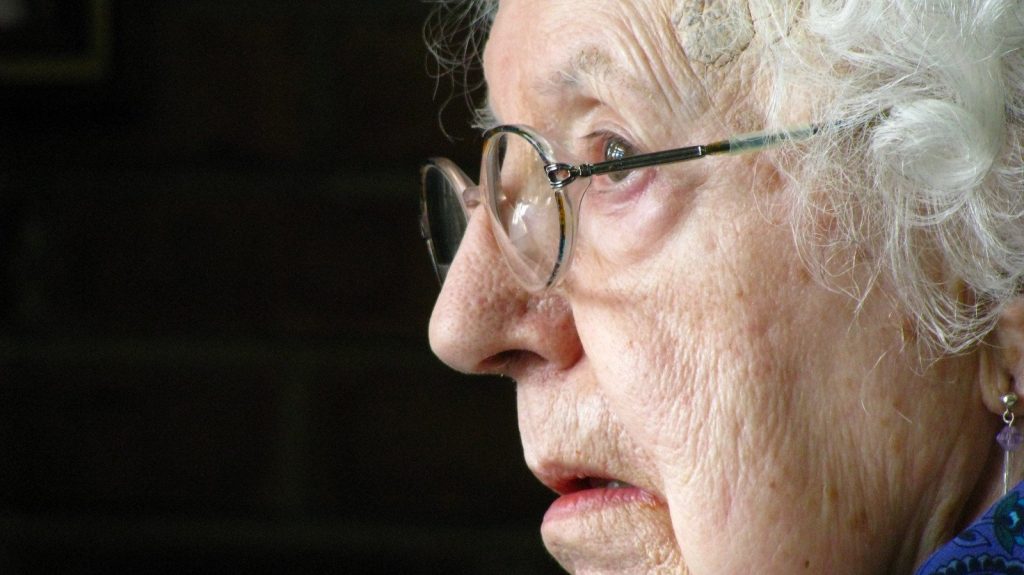 Loving daughter shares experiences as caregiver
By Eileen Connelly, OSU
"I'm a nurse, not a writer," said Amy Neuzil.
Yet Neuzil has used her medical background and personal experience to pen a candid and compassionate book, "Becoming an Alzheimer's Caregiver: What I Learned from Caring for My Mom" (Prospect Press, 2017).  It came about, she believes, "as the answer to a prayer."
According to the Alzheimer's Association, someone in the United States is diagnosed with the disease every 66 seconds. In many cases, the individual's family members and friends become their caregivers. Neuzil's mother, Dolores, first began showing signs of mild memory loss in 2001, occasionally repeating herself. Two years later, she was diagnosed with Mild Cognitive Impairment, and the diagnosis was changed to Alzheimer's disease in 2006.
"While we were saddened by the news, neither my dad, my sisters or I were surprised by the changed diagnosis," Neuzil recalled. "Mom's cognitive abilities were declining slowly, but declining nonetheless."
     By 2006, she said, it had become obvious that her mother need more care than her family could provide at home. After a lengthy hospital stay, "we moved Mom to a nursing home. She spent several weeks there, and we realized almost immediately the choice we made for her was not a good one."
That's where the prayer came in. "I made a promise to myself and to God that if we were shown the way, I would try to do something to help other Alzheimer's caregivers," Neuzil explained. "I truly believe God said, "if you open your heart
and ears, here's the solution.' That was five and half years ago, and Mom still lives at the nursing home we moved her to in March 2012."
Next came the tough part, said Neuzil: "Living up to that promise I made God when I had never written anything longer than what was required at school, and that was a long time ago."
Neuzil worked with two editors, both of whom have personal experiences of losing someone to dementia. The writing process was humbling and cathartic. "It felt really good to think that I might be helping others to get through this, for them know that there is help and support and that they aren't in this alone."
The result was "a caregiver book that I'm really proud of and one I wish my family and I would have had when our journey with this heartbreaking disease began," she said.
Featuring a forward by Dr. Robert Keyes of The Christ Hospital Health and Aging Center, "Becoming an Alzheimer's Caregiver" introduces readers to the basics of the disease, including testing, how to talk with doctors, when and how to seek further help, choosing the right facility for a loved one and thinking about end-of-life decisions. Neuzil also offers practical and personal advice on dealing with day-to-day concerns such as communication challenges, hygiene and safety.
"If you can figure out how to communicate at least part of the time, it can make such a difference," she said. "If definitely requires adaptability."
For Neuzil, being able to pick up on her mother's nonverbal clues (facial expressions and body language) has been particularly helpful, especially as she has entered the later stages of Alzheimer's. "When you're having trouble deciphering what your loved one is trying to communicate, scan for the clues," she advises. "It takes practice to be able to take in the surroundings while listening to your loved one, who might be making little to no sense with their words. But it really does help make sense of things when their words don't."
Neuzil knows that of all the issues caregivers face, their loved one's safety is first and foremost. In the book, she provides invaluable tips for safety-proofing at home, along with managing medications safely, being prepared for an emergency, driving dangers, and a myriad of other safety issues
"As I began researching safety, I was reminded again how Alzheimer's disease affects different people at different speeds and presents them with different challenges," she writes. "Because each situation is different, it's important to evaluate your loved one's safety needs on a regular basis."
Throughout the experience with her mother, the ups and downs, the feelings of isolation and other challenges, Neuzil said, "We have always had the sense that God is holding us up. It hasn't been easy all the time, but we've gotten through it because we've all had Mom's best interests at heart and we love and appreciate her."
     "Becoming an Alzheimer's Caregiver" can be ordered from booksellers everywhere.