World Premiere Set for "Over-the-Rhine" Movie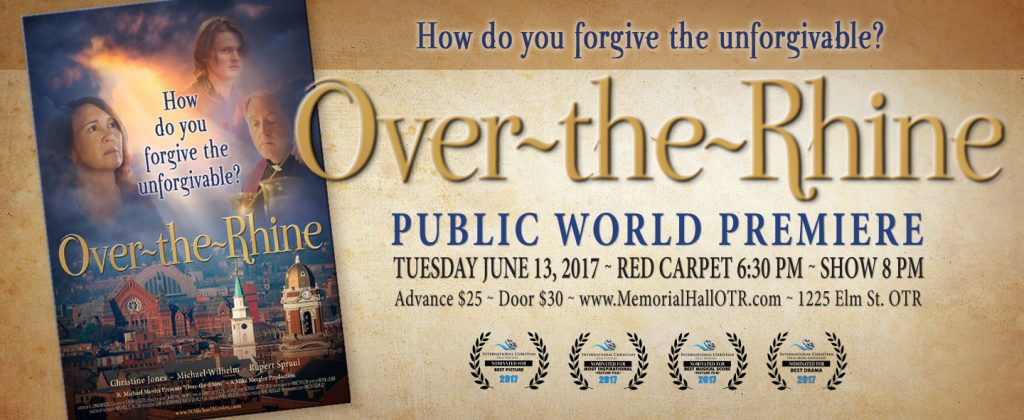 Over-the-Rhine, a dramatic feature film about addiction and forgiveness, set and filmed entirely in Cincinnati, will have its public World Premiere at Memorial Hall in Over-the-Rhine on Tuesday, June 13.
The new motion picture, made by St. Michael Movies, previewed recently at ICFF, the largest faith-based film festival in the world, where it was nominated for Best Picture, Most Inspiring Picture, and Best Score. Last week it was nominated for Best Drama by ICVM, which will hold its annual media conference next month. Over-the-Rhine will screen at additional film festivals throughout North America before its national release next winter.
In the film, written, directed and produced by L.A.-to-Cincinnati transplant Mitch Teemley, a woman grieves and rages at the loss of her only son, then stalks the heroin-addicted driver who killed him. "What come next," Teemley adds, "neither could ever have anticipated."
Two months after he began scripting Over-the-Rhine, Teemley was nearly killed himself—by a drug-addicted driver. "I'm proud of the amazing urban transformation Cincinnati is undergoing," Teemley says. "But it's also at the epicenter of the opioid epidemic, and the air is thick with stories of suffering. And of hope. Those stories are what inspired this film."
The entire cast and crew of Over-the-Rhine was drawn from the region. Leading lady Christine Jones, who teaches acting at NKU, played opposite Teemley in the romantic drama Promises to Keep, also due for release next year. "I had Christine in mind when I wrote the part," Teemley says, "so there's a lot of her in the character, her intensity, her compassion." Newcomer Rupert Spraul, a junior in the University of Cincinnati's CCM Acting program, plays Jones's teenage antagonist in the movie. Also featured are Torie Wiggins, Michael Bath, Renika Williams, and many other well-known Cincinnati actors. The film's award-nominated score was created by Cincinnati composer and music director Stephen Goers.
Tickets for the Premiere, which includes a pre-show reception and post-screening talk with the cast and crew, are available at the Memorial Hall box office, (513) 977-8838, and online at https://www.memorialhallotr.com/cincinnati-shows/rhine-public-world-premiere/