Xavier, Mount St. Joseph team up to start "Lauren Hill Tipoff Classic"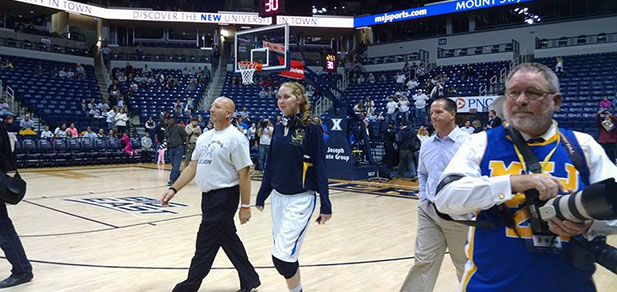 Staff Report
Lauren Hill, the Mount St. Joseph University basketball player who's battled with Diffuse Intrinsic Pontine Glioma (DIPG) captivated the nation before her death earlier this year, was not likely to be forgotten by anyone who knew her story. A collaboration between The Mount and fellow Catholic institution Xavier University was crucial in catapulting Hill to national recognition, and the two colleges are at it again to assure her name is never lost to history.
The schools will open their respective women's basketball seasons with a doubleheader at Cintas Center on Saturday, Nov. 14 in what will be called the "Lauren Hill Tipoff Classic." The games will be televised on FOX Sports Ohio. The event will be the annual kickoff for Xavier and Mount St. Joseph's women's basketball teams.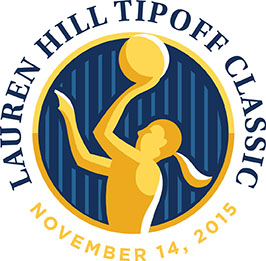 The doubleheader will take place on the opening weekend of college basketball with Xavier opening the day against Evansville at 1 p.m. Mount St. Joseph will play Hiram College approximately 30 minutes following the conclusion of game one.
Hill became a media superstar after being diagnosed with DIPG, an inoperable and terminal brain cancer, but still fulfilling her dream of playing college basketball. With approval of the NCAA Mount St. Joseph moved the date of its 2014 season opener up a few weeks and had the game played at the Cintas Center to accommodate the large crowd that wanted to see Lauren achieve her dream.
Hill hit the court for her first collegiate game on Nov. 2, 2014 against Hiram College in front of a capacity crowd at Cintas Center on national television. Throughout her brief collegiate career (four games played, 10 points, one rebound) Hill advocated for DIPG awareness through The Cure Starts Now.
Hill hit the court for her first collegiate game on Nov. 2, 2014 against Hiram College in front of a capacity crowd at Cintas Center on national television.
"Lauren's courage and positive approach to adversity inspired everyone who heard her story," said Xavier Athletics Director Greg Christopher. "This tribute to Lauren is another way her spirit can impact others. Our goal is to honor Lauren and her fight, along with continuing to raise awareness for pediatric brain cancer."
"A year ago, I, like many, watched one of the most unselfish players take the floor for her first college basketball game. As I think back, what an amazing player, person and teammate Lauren Hill was," said Mount St. Joseph coach Dan Benjamin. "On Nov. 14, we will continue her legacy and honor her for everything she stood for! Love you No. 22 and miss you! Help all of us to roar loud and continue your mission."
Ticket proceeds from the games will benefit The Cure Starts Now Foundation, a not-for-profit committed to raising money for pediatric cancer research. Hill's goal to raise one million dollars for DIPG research has long-since been surpassed. Hill, 19, died in April.
"On Nov. 2 last year, the nation rallied behind Lauren and not only celebrated the incredible accomplishment of her first games as a collegiate player while battling brain cancer, but also started a national movement to fund research to find an end to this horrible cancer," said Brooke Desserich of The Cure Starts Now. "Her goal wasn't just to set foot upon that court, it was to set foot upon the national stage to stand up and be a voice for other children battling cancer and to rally a nation to donate to research. The nearly $1.8 million in research she funded alone is testament to her tenacity and impact on this world. Let us use this game to celebrate that legacy and continue her goal to fund research."
Ticket Information
Tickets are $10 for adults and $5 for youth (ages 3-17) and are valid for both games of the doubleheader. Special group pricing is in effect for this game. Groups of 15 or more can purchase tickets for $5 each. Proceeds will benefit The Cure Starts Now Foundation. Tickets can be purchased online at GoXavier.com or Ticketmaster.com, over the phone at 1-800-745-3000, or in person at the Xavier Athletics Ticket Office. To purchase group tickets call 513-745-3411 ext. 7.
More stories about Lauren Hill
Hill lived the calling God gave her
Dying to live, and living to die: Brittany Maynard and Lauren Hill
Lauren Hill issues layup challenge
Hill's efforts paying off for DIPG research
Mount St. Joe, XU work together on athlete's dream 
Posted August 26, 2015
Mount St. Joseph and Xavier University contributed to this report.