"You know God has intervened" St. William special needs program changes lives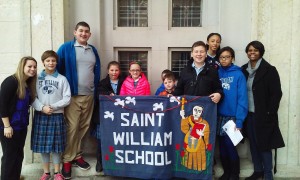 By Patricia McGeever
Starting kindergarten is a big step for any child. It's no small event in a parent's life either. But if you have a child with special needs and you want him or her to receive a Catholic education, your options are limited. That's what Christina Sillies found when it came time for her youngest child to start school. Colton, seven, has Down syndrome.
"It was really rough looking for a school for him after rejection after rejection," Sillies said. "So, to find a school willing to take him and be happy that he's there was a huge relief for us."
Colton attends St. William School in West Price Hill and is a student in the Special Needs Program. In 2005, the parish school started the Autism Scholarship Program with the goal of mainstreaming children with an autism diagnosis. In 2013, it was expanded to include children eligible for the Jon Peterson Scholarship program, which enables children with specific learning disabilities and multiple disabilities like Down syndrome and impairments like Attention Deficit Hyperactivity Disorder to attend St. William. The State of Ohio funds the programs and gives students the opportunity to have an individualized educational program (IEP) to meet their specific needs. The scholarships cover both tuition and services. Sillies said it has made a huge difference in Colton's development.
"The biggest thing for us is that he's included and because of that attitude, this acceptance of him, he's learning the academics moreso than he did last year," she said. "They are flexible and willing to work with us to do what needs to be done to help Colton learn."
There are 35 students enrolled in St. William's Special Needs Program, 15 on the Autism Scholarship and 20 on the Jon Peterson Scholarship program. Four classrooms are devoted to special needs education in a building commonly called "the annex." Eighteen of the students have classes there and are considered "self-contained." Nine of those kids are partially mainstreamed and have gym, art, music and religion classes with their "typical" peers. Seventeen other students are fully mainstreamed and attend classes in the main school building. They are occasionally pulled out for re-teaching and testing.
Six teachers in the program are called intervention specialists. Two of them work in the main school building with the mainstreamed students. The other four each have their own classrooms in the annex, and six aides work with them. The fourth classroom was added this year, and it may not be the last.
"We definitely have a lot of room for growth," said Principal Jarrod Zeiser. "Over the last several years, we've had a bit of a waiting list."
Zesier said he needs three to five students to be able to hire a new teacher and add a new classroom. Maria Schoeppner is the school's Special Education Coordinator and is in charge of the program. She's been involved since the beginning.
"I love it, personally," she said. "I can look at myself 10 years ago and look at myself now. My patience has grown immensely."
Children in the program rotate through six stations. A new skill is introduced during "teacher time." Then each child will work on something, like a puzzle or a math problem. The children also work with two aides who reinforce other skills. THey also have time to work on an iPad and to read. Sensory breaks are worked into the schedule: A space called the "muscle room" has a trampoline, swing, slide, and train set, and the "sensory room" has other tools to calm them.
"By the time you rotate six stations for 15 minutes, that's a long time" said Schoeppner, and many children with special needs will require a sensory break.
Tina Schlaechter called the program a blessing for her family, which includes two children on the autism spectrum. She's happy her children are in a Catholic environment.
"It was very helpful, for practical reasons, that two out of our four children were able to attend the same school for a number of, as well as knowing their academic and special needs were being served," she said via email.
Schlaechter's 14-year-old son is an eighth grader at St. William, where his ability to communicate with others has improved since he started. Her teenage daughter was diagnosed with Asperger's syndrome and attended St. William from sixth through eighth grade. She is high-functioning, and currently attends Roger Bacon High School, where she made the honor roll. Schlaechter said St. William laid the groundwork for her to succeed.
"When you hear your child, who had struggled so much, say, 'for the first time I feel like I'm in the right place,' or 'I finally have real friends,' or 'I like gym class for the first time in my life,' you know God has intervened," she said.
For information, visit SaintWilliam.com and click on "Autism Program," or call (513) 921-0247.