Young missionary born with a desire to serve others
April 6, 2012
By Natalie Corzine Moore
Tegucigalpa, HONDURAS — Tori Pfeffer, a Texas native, was "born with a desire to serve."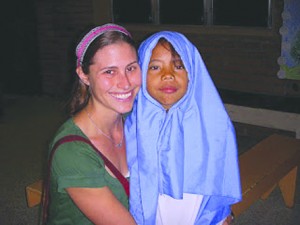 She began her missionary journey with a strictly devised list of criteria: she wanted to work in southern Italy with children, preferably in an orphanage located in a region where there are refugees, for a Catholic group with a focus on prayer, in addition to social justice, and make commitment of at least one year. Despite her clearly thorough list, God had other plans for her. Instead of Italy, she begins each day at Punto Corazon Santa Maria Goretti in Tegucigalpa, Honduras, as a missionary with Heart's Home, an international Catholic organization founded in 1990.
Pfeffer, the oldest of five children, said helping others comes naturally and credits her parents and grandparents as "wonderful examples of how to live the Christian faith." She had a desire to volunteer, but admits she "lacked initiative." Family and close friends guided her early days of volunteering. "Tithing and helping others is important in my family," she explained.
"An annual tradition we have is to visit families in need to bring them Christmas dinner and gifts," Pfeffer continued.
"As a child, I went with my mom when she took Communion to the homebound. Later, my mother became a lay missionary and helped parishes set up perpetual adoration chapels. As a teen, I often accompanied her to the parishes where she spoke and, at times, addressed their youth groups. My father is also very involved in the church, serving on councils, helping at the seminary and founding a non-profit to financially support the work of missionaries like my mom. My grandparents took us grandchildren to visit residents of homes for the elderly and those in recovery.  They taught us about tithing and to pray for those in need. They went mission trips and volunteered in our city. All of this laid the foundation by example for me."
While in college at the University of Texas in Austin, her views on volunteerism shifted. Once an activity she had to be invited to join by loved ones, Pfeffer found a "personal desire to give of myself."
She began to volunteer weekly with three local organizations by tutoring and mentoring at-risk children, spending time with people living on the streets and co-leading a Bible study group. She also volunteered with the Red Cross after Hurricanes Katrina and Ike. "I suppose you could say I fell in love with giving my time to others," she said.
After graduating from college, she started to work a full time job at a finance firm where she worked long hours. She loved her job, but was worried she wouldn't have time to volunteer. She would come home from work late and stay up searching the web for chances to volunteer abroad. No matter how busy her life was, her desire to help others did not go away.
During the second year of work, she took a week off to go on a mission trip and then came home to volunteer with Communities in Schools, an organization she volunteered with during her studies. But that was enough for Pfeffer. She also joined in helping her church serve meals at an area shelter and volunteered with the local Boys & Girls Club.
During this time, she felt a greater calling as she watched friends leave for mission trips to Peru, Ecuador and Greece, only to return with stories of service and gratitude. She continued to search online for the perfect opportunity. She wanted "to give more, to do more…"
During her third year of working, Pfeffer fell ill with mononucleosis, forcing her to take off of work for five months. She was very weak and was bedridden for most of the time. Her recuperation period gave her plenty of time to pray and reflect. Two weeks before returning to work, her mother sent her on a three-day Jesuit discernment retreat. While there, she prayed to God and told Him that if He wanted her to go on a mission, He would have to give her a very clear sign telling her to go. She gave Him list of criteria for her mission, thinking it would be impossible to attain.
She shared her lengthy list with a priest present at the retreat, noting that she didn't think there was an organization that could fulfill it. Also, because she didn't have any traditional missionary skills, for example a medical or educational background, to offer, she wasn't sure anyone would send her into the field. "The more I researched, the more I became aware of my inadequacies. I am not a teacher to teach or doctor to heal. I do not have a degree in counseling or a degree to train. I was and am totally unqualified."
The priest gave her a catalog from the Catholic Network of Volunteer Services and urged her to contact Heart's Home. After checking out their website and watching their online video, their message appealed to her and she reached out to the organization.
Heart's Home was founded by Father Thierry de Roucy during his time as the general superior of the Servants of Jesus and Mary. In 2000, Heart's Home was officially approved by the church as a private association of the faithful. Its mission is to "promote a culture of compassion around the world through a range of charitable and cultural efforts."
Located in more than 21 countries around the world, Heart's Home missionaries are Catholics from ages 21-35 who commit to live in the communities they serve a for minimum of 14 months. According to its website, the organization works through "the three following pillars: compassion, community and prayer life." Since its founding, Heart's Home has recruited more than 1,300 Catholic volunteers from 38 countries.
During her mission placement, Pfeffer presented her list of criteria to the recruitment office. After reading her list, the recruitment officer asked "where don't you want to go?"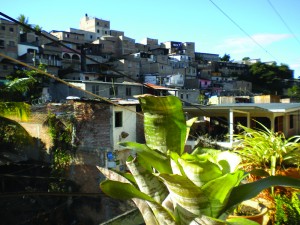 She replied, "Anywhere I am needed." Heart's Home placed her in Tegucigalpa, Honduras.
Since October 2011, Pfeffer has been living at Punto Corazon Santa Maria Goretti in an economically disadvantage section of the city that is plagued with drugs and the violence that accompanies them. In her work, she says her greatest challenge has been learning the language and experiencing "a sense of helplessness as I watch my friends here struggle with the big stuff, the stuff that makes or breaks you, and in their struggle they fall."
"I sometimes feel that my only recourse is prayer," she said. "My mission is to accompany them even as they fall and to love them and encourage them. They have very profound wounds. I can see that they are suffering, that they are on a dangerous path, but they hide it. Sometimes I am not sure that they are aware they are going down a path that leads away from God and goodness. Sometimes they are, but continue down it for some reason unknown to me. They have not had a friend before in whom they could truly confide. So, with my fellow volunteers we pray and love, we hope and encourage, we listen and advise. We walk with them."
Her mission is not all sadness. Walking with her new friends has brought her joy as well. "There are so many friendships here which touch me and teach me how to love, what hospitality and charity truly mean."
To learn more about Heart's Home, visit their website at: http://usa.heartshome.org/. To read more about Tori's work in Tegucigalpa or to read her newsletters to sponsors, visit her blog at: http://abellinhonduras.blogspot.com/.