Your Spouse as a Cross?
My husband and I shuffled our kids into the pew Sunday morning and listened to a gospel we had heard dozens of times before: Then Jesus told His disciples, "If any man would come after me, let him deny himself and take up his cross and follow me. For whoever would save his life will lose it, and whoever loses his life for my sake will find it" (Mt. 16:24-25)
Such familiar words struck a new chord within me. Father's homily spoke to embracing struggle and pain, noting that doing so is often life-giving and enables us to live more fully. He joked that husbands and wives were probably sitting next to their crosses, which of course yielded a collective chuckle and a few nudges among the congregation.
All joking aside, my thoughts settled on the concept. Christ's own cross – bearing it, being nailed to it and dying on it – was His means of salvation; and the whole point of marriage, according to The Baltimore Catechism, is "to enable the husband and wife to aid each other in securing the salvation of their souls." Following this logic, taking up our crosses is a matter of fully participating in our marriages. The sacrament itself secures us to each other like the Lord to His cross. Jesus parted with the cross after dying, just as spouses are joined "until death [do] they part."
Simple enough, right? Just accept and embrace the ups and downs! But the ideal starting point to discern whether we're fully engaged in marriage is our wedding vows. They make the perfect marital examination of conscience.
All those years ago, many of us stood before our spouses, God and our families and declared, "I promise to be true to you in good times and in bad, in sickness and in health, and I will love you and honor you all the days of my life." When considering my own behavior as a wife, these powerful words draw attention to the significance of my thoughts and behaviors toward my husband.
Our friend, Patrick, and his wife, Danielle, were married for only a couple of years when Danielle was diagnosed with a chronic illness that exhausted her. Because of her incessant fatigue, Danielle's abilities gradually declined for parenting, helping with household tasks, and working professionally; and it was hard for both husband and wife. He frequently turned to a good friend for emotional support, but eventually his understandable laments turned into resentful complaining. "Patrick," his friend sighed, "this is the sickness." Once reminded of his vows, Patrick recognized that, in his resentment, he wasn't accepting or taking up his cross.
Of course, every one of us can be difficult to love because we each bring challenges to our marriage. Be it illness, trauma, quirks or bad habits – and barring any harmful or abusive circumstances – taking up our crosses involves accepting the good and the bad with arms wide open. Because we vowed to do so and so did our spouses, we're free to ask for the same and should expect it.
The domestic life is fraught with imperfections – character flaws, sickness, challenging seasons – and the mark of accepting the crosses within our vocations is that we take them in stride rather than running the other way. It's paramount to our own holiness that we become cognizant of thoughts and behaviors that dishonor our spouses so we can replace them with those that honor them.
And the result? More love. Respecting, serving and delighting in our spouses as Christ did all people in the gospels opens our eyes to better see them as the Lord does, which empowers us to become conduits of His love for them.
Place your spouse's name within Christ's command: "If any man would come after me, let him deny himself and take and follow me…" In this moment, recommit yourself knowing that in handing over yourself for the sake of your beloved, Heaven is on the other side.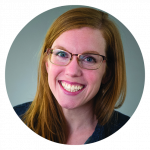 Katie Sciba is a national speaker and Catholic Press Award- winning columnist. Katie and her husband, Andrew, have been married for 13 years and are blessed with six children.
This article appeared in the November edition of The Catholic Telegraph Magazine. For your complimentary subscription, click here.