Youth Ministry announces 'Know Mercy' video contest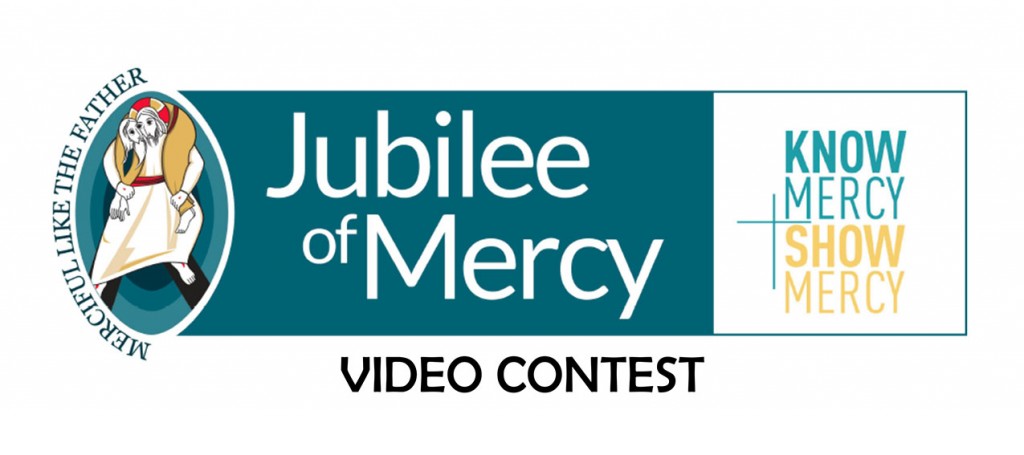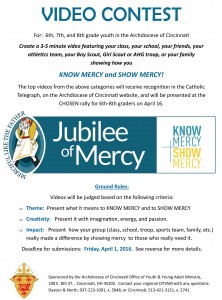 The deadline for submission of entries in a Year of Mercy video contest for sixth, seventh and eighth grade youth in the Archdiocese of Cincinnati will be April 1, according to Sean Reynolds, Director of the Office of Youth and Young Adult Ministry.
Reynolds said those interested should create a three to five minute video featuring "your class, your school, your friends, your athletics team your Boy Scout, Girl Scout or AHG troop or your family, showing how you know mercy and show mercy."
"Know Mercy, Show Mercy" is the theme for the archdiocesan observance of the Extraordinary Jubilee Year of Mercy declared by Pope Francis which began in January.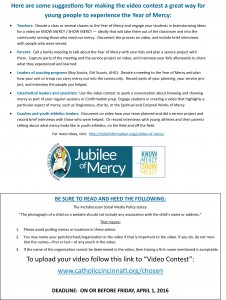 Reynolds said that the top videos from the above categories will receive recognition in The Catholic Telegraph and its website, on the Archdiocese of Cincinnati website, and will be presented at the CHOSEN rally for sixth- through eighth-graders on April 16.
Videos will be judged based on three basic criteria, Reynolds said. Theme: Present what it means to "know mercy and show mercy;" Creativity: Present it with imagination, energy, and passion; Impact: Present how your group (class, school, troop, sports team, family, etc.) really made a difference by showing mercy to those who really need it.
The contest is sponsored by the Archdiocese of Cincinnati Office of Youth & Young Adult Ministry, which has more details available by checking http://www.catholiccincinnati.org/ministries-offices/youth-ministry/ or http://www.catholiccincinnati.org/ministries-offices/young-adult/.