23 men ordained as Deacons April 27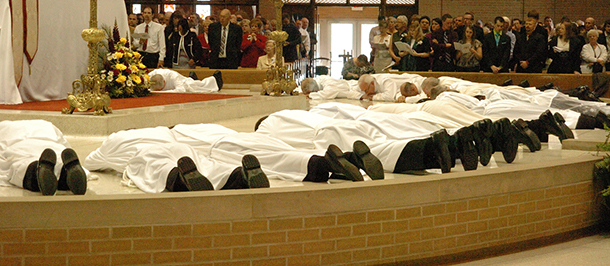 Staff Report
Cincinnati Archbishop Dennis M. Schnurr ordained 20 permanent deacons and three transitional deacons for the Archdiocese of Cincinnati Saturday, April 27 at Our Lady of the Immaculate Conception Parish.
A permanent deacon is a man, either married or single, who is ordained to the order of deacon, one of three ranks in ordained ministry — the other two being priest and bishop.
A transitional deacon is a man who has been ordained a deacon but is continuing on the path to priesthood. A man must be a deacon before he can be a priest or bishop. The three transitional deacons ordained April 27 were Rev. Mr. Andrew P. Cordonnier, St. Remy, Russia; Rev. Mr. Brian W. Phelps, St. Ann, Groesbeck, and Rev. Mr. James J. Riehle, St. Gertrude, Madeira and St. Columban, Loveland.
The Diaconate Office announced that Archbishop Schnurr has made the following parish assignments for the newly ordained permanent deacons effective immediately:
Deacon Marc A. Alexander (Barbara)
Our Lady of the Visitation, Cincinnati
Deacon Dennis J. Berry (Norma)
Good Shepherd, Cincinnati
Deacon Michael H. Brock (Ann)
St. Columban, Loveland
Deacon Dale J. De Brosse (Deborah)
Precious Blood, Dayton; St. Rita, Dayton; St. Paul, Englewood
Deacon Lawrence D. Gronas (Diane)
Holy Name, Trenton
Deacon Robert W. Gutendorf (Susan)
St. Peter, Huber Heights
Deacon Ralph M. Gutman (Mary)
Our Lady of the Immaculate Conception, Dayton
Deacon Henry L. Jacquez (Elizabeth)
Holy Trinity, Norwood
Deacon William K. LeCain (Nancy)
St. Luke, Beavercreek
Deacon Michael J. Leo (Therese)
Holy Trinity, Dayton
Deacon Vincent T. Lutz (Patricia)
St. John the Baptist, Dry Ridge
Deacon John T. Lyons (Linda)
Holy Family, Middletown
Deacon David M. McCray (Eileen)
St. Peter, Huber Heights
Deacon Christopher A. Rauch (Joan)
St. Francis of Assisi, Centerville
Deacon Kenneth R. Schnur (Carole)
St. John the Baptist, Dry Ridge
Deacon William J. Staun
Holy Trinity, Norwood
Deacon David P. Steinwert (Sherry)
St. Teresa of Avila, Cincinnati
Deacon Kenneth R. Stewart (Cecilia)
St. Augustine, Germantown
Deacon Louis F. Wong (Mary Kay)
St. Susanna, Mason
Deacon  David E. Zink (Rhonda)
St. Albert the Great, Kettering