7 to be ordained transitional deacons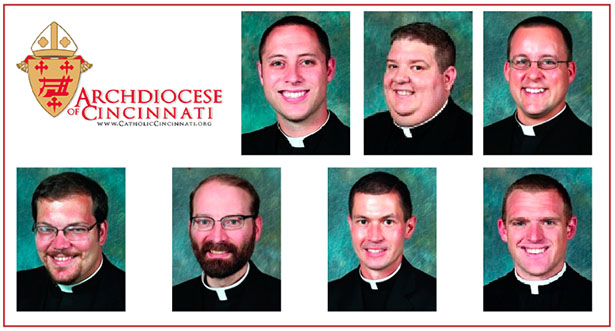 Staff Report
The seven men expected to be ordained priests for the Archdiocese of Cincinnati in 2016 will be ordained transitional deacons Saturday, April 25. The ordination begins at 11 a.m. at the Cathedral of St. Peter in Chains, with Auxiliary Bishop of Cincinnati Joseph R. Binzer presiding.
The men are Tim Fahey, Matthew Feist, Christopher Geiger, Alex McCullough, Eric Roush, Jason Williams and Sean Wilson. To learn more about these seven men being ordained to the transitional diaconate, visit the Cincinnati Vocations website.
While those ordained to the transitional diaconate are typically ordained priests the following spring, there is never a guarantee of that timeline. If all seven are ordained next May, it will mark the largest class of priests ordained for the archdiocese since 2009.
The average age of the seminarians being ordained deacons is 30. The oldest is 36 and the youngest is 25.
A priestly ordination class with as many as 12 members is a possibility for 2019.
Posted April 24, 2015