Mother of Mercy part of interfaith event with Muslims, Jews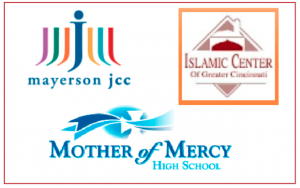 Staff Report 
Just days after Earth Day, the Mayerson JCC, the Islamic Center of Greater Cincinnati, and Mother of Mercy High School have announced an Intercultural Day of Service.
Sunday, April 26, beginning at 3 p.m. approximately 60 teens from throughout the tri-state, representing three major world religions, will work together in the spirit of interconnectedness and unity, to establish a new butterfly garden at Imago Earth Center, and in doing so, form connections among one another. 
Sixty students, 20 each representing three of the world's most prominent religions will spend approximately two hours on work before joining one another at a pizza dinner. Judaism is represented by the Mayerson JCC, Islam by the Islamic Center Youth Group, and Christianity by students from Mother of Mercy High School, a Catholic high school.
According to a press release from the Mayerson JCC, "The Interfaith Day of Service is an opportunity for young adults from different worldviews to come together and work cooperatively on a shared goal. It is the firm belief of all three organizations that interfaith understandings are strengthened through service, which serves to bring everyone together. The day presents a chance to find similarities where there were differences, share togetherness where there could be divisiveness, and show understanding rather than ignorance."
The Intercultural Day of Service was made possible through an anonymous donation, with support from Xavier University and its partners in the Nostre Aetate anniversary events.
Posted April 24, 2015