Longtime Chicago barber made Cardinal George laugh and look good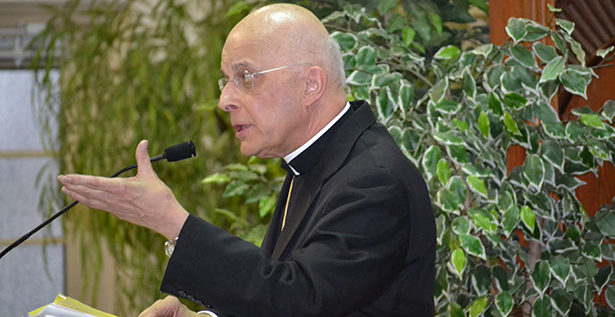 By Joyce Duriga Catholic News Service
CHICAGO — Alfredo Fricano is probably one of the only people who could get away with telling Cardinal Francis E. George he looked like a "bum."
Once the cardinal's longtime barber — who his clients just call Alfredo — saw him on TV and noticed he needed a haircut so he called the residence.
"I said, 'Your eminence, you look like a bum.' He said, 'Who is this?' And I said, 'Your hairstylist.' I said, 'Your hair, you need a haircut. You want to ruin my business?'" Alfredo recalled in his Italian accent, gesturing with his hands.
The cardinal laughed and the next day he was in for a haircut. The two men often joked with each other.
Alfredo said the cardinal was a good man with a great sense of humor who patronized his shop at State and Chicago avenues for 15 years.
When the cardinal's health really declined Alfredo started going to the residence every two weeks to trim the cardinal's hair and give him a shave and a shoulder massage because his muscles were all cramped up.
"Matter of fact, I was there three days ago. Sunday morning I did him," Alfredo said the afternoon of Cardinal George's death April 17. "He looked great. Really. We talked and everything. Every time I come in there I give him a hug."
Cardinal George, who retired as Chicago's archbishop in 2014, always asked Alfredo if there was anything he could do for him. "I said, 'Your Eminence, all you can do for me is say a little prayer.'"
Throughout the friendship, Alfredo refused Cardinal George's offer for payment.
"I said, 'Your Eminence, you insult me. It's an honor to have you come in my establishment." Alfredo wanted just one thing from the cardinal. "Say a little prayer for me," he would tell him.
Once Cardinal George confided that he missed having homemade grappa, an Italian brandy, which he often had during his time living in Rome.
"I says, 'You got it.' I live in Highland Park near Highwood and I know everybody who makes homemade grappa," Alfredo told the Catholic New World, newspaper of the Chicago Archdiocese.
"I give him a bottle and he just love it." The cardinal told him he would have a little before bed and "sleep like a baby."
"I think he was a great man," Alfredo said. "To me, he was one of the nicest men I've ever met."
Posted April 24, 2015