A day of eclipse and Champions of Catholic Inner-City Schools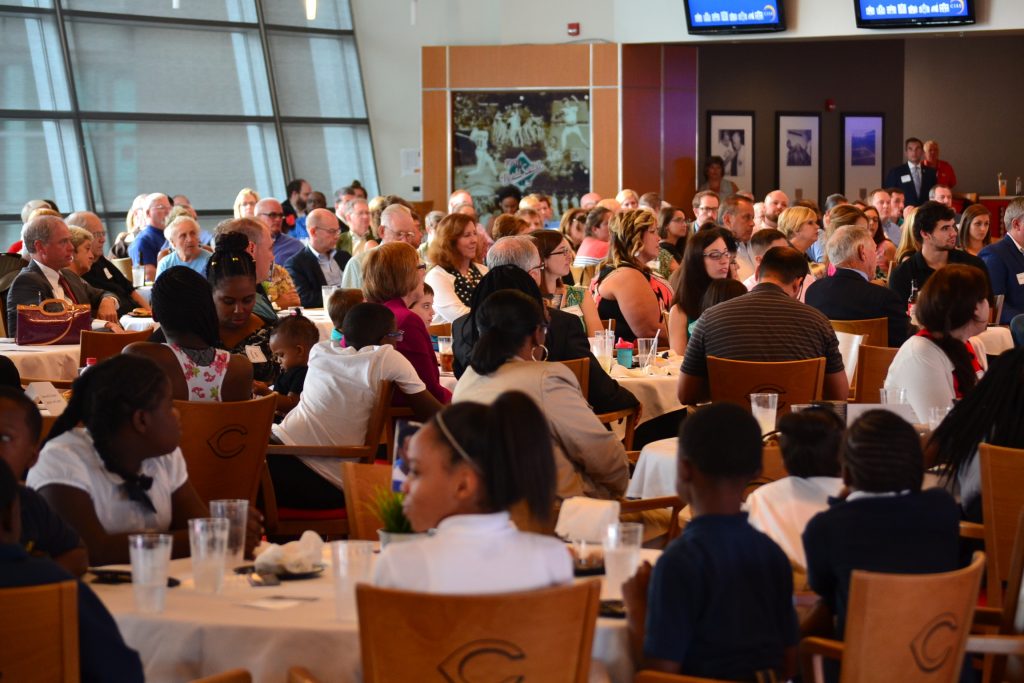 On Monday, August 21, 2017, much of the nation witnessed a solar eclipse. As the hour approached, I took a walk a few blocks down to St. Peter in Chains Cathedral. I wanted to bottle that day. In a time of divisiveness in our country, downtown Cincinnati was like a day at a family reunion. I witnessed people talking to each other, sharing, and smiling. A gentleman got out of his truck by the Cincinnati Public Library and asks me if he could see through those glasses. I said sure and gave him my glasses, and he was so thrilled. In Piatt Park, people were talking and sharing the experience, looking like they were watching a 3D movie in a scene from a '50s movie. The streets were eerily quiet, but the sidewalks were full as people gazed up at this marvel. They were excited to see the eclipse as well as the crescent-shaped shadows on the ground. I wish every day could be like this. I didn't see a divide, I saw many reaching out and having dialogue with one another; thanking each other for sharing.
That evening a group of men and women filled the Champions Lounge at Great American Ball Park to kick off the 2017-2018 CISE campaign. CISE stands for the Catholic Inner-city Schools Education Fund. Currently eight schools in Cincinnati's urban neighborhoods receive funding from CISE:
St. Boniface, Northside
Corryville Catholic, Corryville
St. Francis de Sales, East Walnut Hills
St. Francis Seraph, Over-the-Rhine
Holy Family, Price Hill
St. Joseph, Ezzard Charles
St. Lawrence, Price Hill
Resurrection, Price Hill
More than 1,800 students (PK-8) are enrolled in the CISE schools and 300 CISE school graduates attend local Catholic high schools. Most receive financial and other types of support from the CISE high school program.
John Lomax of Channel 12 news served as the MC for the evening. In her opening remarks, CISE director Kristi Phillips said it perhaps wasn't a coincidence that the CISE logo was very similar to the eclipse. John Lomax commented that being in the news business for many years there were no coincidences.
The keynote address was given by Jill Meyer, President & CEO of the Cincinnati USA Regional Chamber and the graduate of Archdiocese of Cincinnati Catholic schools. She said that while our region of Ohio is being highlighted around the country for its growth, with even a "New York Times" feature about how to spend 36 hours in Cincinnati, but that growth can't happen unless we give people the necessary tools to expand, especially education. She also discussed her sister's journey as a teacher, and how working at St. Francis Seraph School has given her the wonderful gift of fulfillment by making a difference.
High school students Tionna Jordan and Shannon Johns lit up the room with their stories of being part of CISE, explaining in their own words how CISE schools open up avenues to quality education.
Carol and Richard Stevie were presented with the CISE Faith in Education Award. Carol Stevie worked in the Catholic Schools Office for many years. She and her husband Richard were an integral part in the expansion of CISE.
Bob Hodge gave countless hours to the CISE program and remarked how he has seen its growth through the years.
The new Campaign Chairs, Tina and Andy Hawking and Christy and Terry Horan, commented on the great generosity area companies and families show to CISE in time and talent, as well as in funds. It isn't just a few donors, they said, but it's many who bring hope and a quality education to students in our city. They announced this year's goal: $2,900,000.
The St. Joseph Catholic School Choir finished off the evening with an upbeat song of optimism.
So on a day where our area was a bit darkened and other parts of the nation were enveloped in total darkness in the daytime hours: optimism prevailed as the simple gift of camaraderie and friendship took over, even if just for a few precious hours. At a kickoff rally in an appropriate room named Champions, camaraderie and friendship shone light on those struggling, by way of a most precious gift: education.
To learn more about CISE, or to donate your time or talent, go to http://www.catholiccincinnati.org/ministries-offices/cise-catholic-inner-city-schools-education-fund/