A Gift of Peace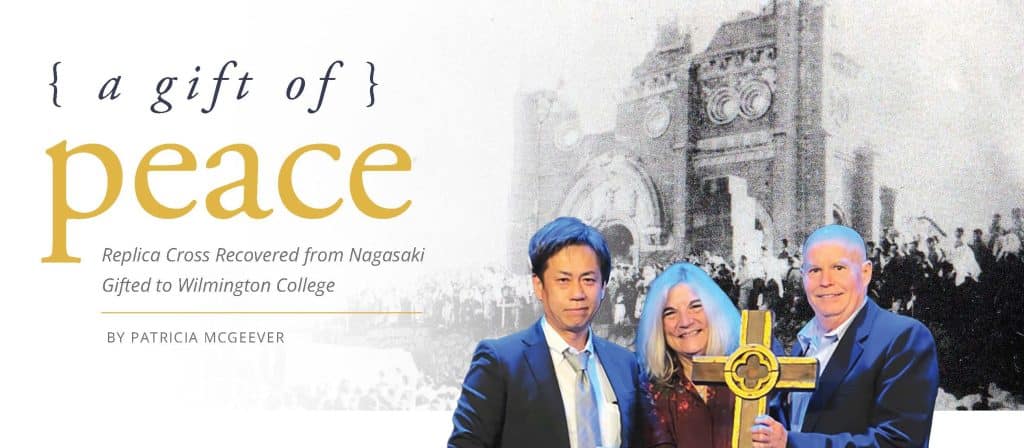 A symbol of international friendship that is on display at Wilmington College was hand delivered by a delegation who traveled more than 11,000 miles from Nagasaki, Japan. It's a wooden replica of a cross recovered from Nagasaki's Urakami Cathedral after an atomic bomb destroyed the church during World War II. Of the nearly 11,000 Catholics living in the valley where the bomb was detonated, 8,500 were killed.
"Urakami Cathedral was ground zero for the atomic bombing of Nagasaki, Japan. So, the fact that this wood cross survived was remarkable," explained Tanya Maus, Ph.D., Director of the Peace Resource Center at Wilmington College.
The cross's replica was a gift that arrived after the college returned the original sacred artifact in 2019. Archbishop Emeritus Mitsuaki Takami of the Archdiocese of Nagasaki, the Urakami Cathedral rector and four parishioners, including a WWII veteran, brought the replica from Japan in September.
"Three of those four suffered the atomic bombing. It was very special for us that they traveled in a plane, for 13 hours, amid Covid, in their eighties," said Maus. "It was pretty remarkable. One of [the delegate's] fathers started making the replica. He was a master woodworker, craftsman, and then became ill, and his son completed it."
U.S. Marine Walter G. Hooke pulled the original cross from the ruins, formally received it from Nagasaki's Bishop Paul Aijiro Yamaguchi and displayed it for decades in his home. In 1982, Hooke donated it to Wilmington College's Peace Resource Center, one of the largest archives in the U.S. dedicated to the human experience of nuclear war. It primarily focuses on events in Hiroshima and Nagasaki.
When Maus came to the Center, she considered returning the salvaged cross. The emotional reaction of visitors from Nagasaki when they saw it at the Center sealed the deal. Maus said she knew it needed to be returned.
"They eventually found pictures of it in the ruins," she said. "They had forgotten that the cross had existed."
This is one of two artifacts salvaged from the bombed cathedral; the other is the head from a statue of the Blessed Virgin, over which hung the cross. Maus led the group that repatriated the cross in 2019, at the Aug. 9 Commemoration Mass for the atomic bombing of Nagasaki. This summer she learned a delegation would bring the replica.
"It generated a new sense of community and a sense of shared movement toward a world without nuclear weapons," said Maus. "My hope is when we create these new connections and ties, it makes it more difficult to go to war with each other."
This article appeared in the January 2023 edition of The Catholic Telegraph Magazine. For your complimentary subscription, click here.