A Lifetime of Service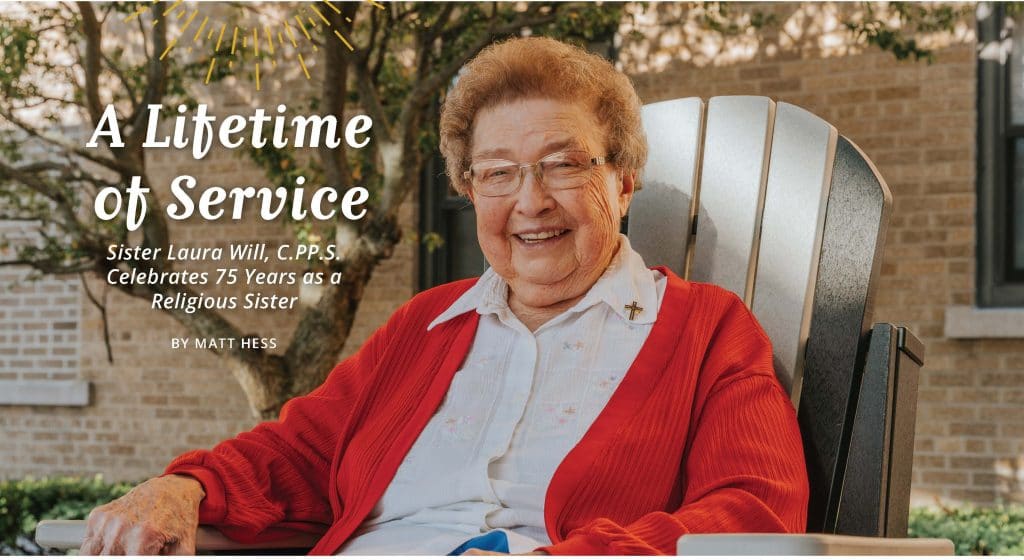 This year Sister Laura Will, C.PP.S. celebrates 75 years with the Sisters of the Precious Blood (Dayton) along with her classmates, Sisters Ruth Ann Meyer and Eva Roehrich, C.PP.S. Together, they mark 225 years of religious life, of which Sister Will says more than 125 years were spent in the Archdiocese of Cincinnati, working in kitchens, teaching students and caring for the elderly.
In reflecting on her 75 years, Sister Will said, "I never regretted them and I really thank God for my vocation." Throughout her life as a sister, she sought to be a life-giving presence to the students, elderly and ill she encountered. In return, these people and experiences were lifegiving to her.
Sister Will's vocation began in grade school when she observed her teachers and visited two aunts in the Precious Blood Community. She could see herself in either of these professions as an adult and was pleased when her teacher informed her that she could be both a sister and teacher. This satisfied the calling Christ put in her heart, "I wanted to be able to help people… I really wanted to be a sister," said Sister Will.
After entering the Sisters of the Precious Blood at age 16 in 1946, Sister Will began her spiritual formation and education, eventually attaining her goal as a sister educator. Starting with younger grades, she moved up the ranks and lived in six different states as her experience grew.
After 44 years of ministering in schools as a teacher and principal, she felt called to care for the elderly and ill, which enabled her to give back to her religious community. These were the sisters at Emma Hall, the Sisters of the Precious Blood nursing wing in Maria Joseph Center.
Music played an essential role throughout Sister Will's ministry. She said that, for her, "music is a special presence of God in my life." Many teaching assignments were in a music classroom and, even as principal, Sister Will enjoyed substitute teaching. She later returned to teaching, spending more than a decade teaching music at Immaculate Conception School in Celina. Her memories of singing with her students are joy-filled ones.
Today, in retirement, music remains part of Sister Will's ministry. While residing at Salem Heights, the sisters' central house in Dayton, she ministers to her community as a choir member and helps plan their liturgical singing music. She also spends time in prayer and contemplation, lifting up the world's needs to God. Helping people through her prayer while assisting the sisters enables Sister Will to continue doing good during, what she calls, this "special time of grace."
It is easy to see that each place and ministry of her vocation was a gift from God; a grace He gave to her and to the Church. Sister Will's 75 years of service celebrates Christ's redeeming love poured out for His people.
This article appeared in the November edition of The Catholic Telegraph Magazine. For your complimentary subscription, click here.