A Look Back at Bishop Carl Moeddel's Ordination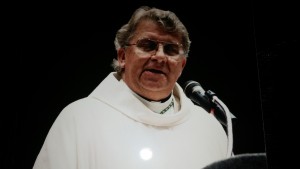 From The Catholic Telegraph Archives:
Excerpts from the August 27, 1993 Edition
With much solemnity, reverence, warmth and affection, Bishop Carl K. Moeddel was ordained to serve as auxiliary bishop of the Archdiocese of Cincinnati and titular bishop of Bistue in ceremonies at St. Peter in Chains Cathedral Aug 24. "I am sure there is a protocol on all this," the new bishop said with great emotion as he gave thanks to those present and asked for prayers. "But since I am a neophyte, you will forgive me if I am guided by my heart." Archbishop Pilarczyk presided and said "The liturgical law of the church says that the ordination of a bishop should take place on a day when a large number of faithful can attend. Looking around our cathedral this afternoon…. I judge we have taken care of that requirement. "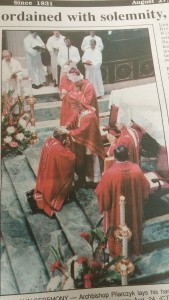 An overflow crowd of more than 1,100 friends, family members, clergy, religious, and diocesan and civic officials were in attendance at the nearly two-and-one-half-hour ceremony, which was filled with the joyful sound of trumpets, organs, ringing bells and voices raised in songs of praise.
A native of Elmwood Place in Cincinnati, Bishop Moeddel served from August 23, 1993 until June 27, 2007.