A point of view from the Capitol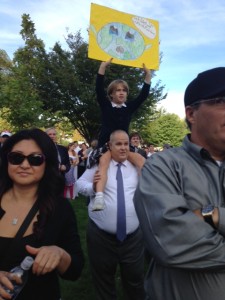 By Pam Long
Regional Social Action Director
About the closest I came to seeing Pope Francis was on the jumbotron on the West Lawn of the Capitol, but what I really got to see was the face of the Catholic Church in the United States. Around me were Latinas, African Americans, a family with three children dressed in their Catholic school uniforms and a little first or second grade girl, also uniform-clad, who sat on her father's shoulders so she could raise a handmade sign that had a world with ears on it that said, "I think the whole world should walk with Pope Francis."
While many of us on that lawn didn't get to see the Holy Father, we applauded his message to our nation's leaders, clapping what seemed to be more times than the leaders he was addressing. We did clap together when the Pope said politics should be at the service of the human person and not a slave to the economy and finance.
We applauded the principles of the common good and human dignity, which grow from Scripture and are found in the treasury of Catholic teaching. We agreed with him on immigration, a "humane, just and fraternal" response to refugees, an end to the death penalty, and action to lift people out of poverty. We applauded his reminder of messages in Laudato Si', his call to end the arms trade, to seek peace, and to support "the richness and the beauty of family life."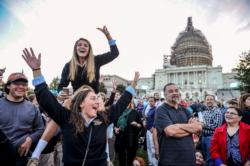 So what was it like being on the lawn and in Washington DC when the Holy Father was in town? It was interesting to see the transformation of a district built on politics, policies and a never-ending search for power. I overheard a visitor explaining the impact of Aristotle and St. Augustine on the Church to a group of Capitol police. Of course, there were street corner interviews and street corner evangelists, each trying to share their truth.
Two New Testament images stay with me. One was when the Holy Father's caravan drove to the West Lawn to greet the people. The crowd began to run toward the car. Those of us too old or too far back in the crowd to put forth a Holy Dash had an instant kinship with the man who couldn't get close enough when the waters at Bethesda were stirred. Although this did get us closer to the jumbotron, trees obstructed our view to the Speaker's balcony where the Holy Father appeared after his speech. Then I felt closer to Zaccheus, the short guy who climbed a tree to get a glimpse of Jesus. When Jesus passed by, he invited himself to Zaccheus' home.
While Pope Francis never passed by close enough for me to see him, there still was the invitation to join him in this work of holding sacred the human dignity of all, to care for the common good and our common home. The invitation remains in my heart to be unpacked throughout the rest of my life.
Posted October 1, 2015