Throwback Thursday: One more look at the papal visit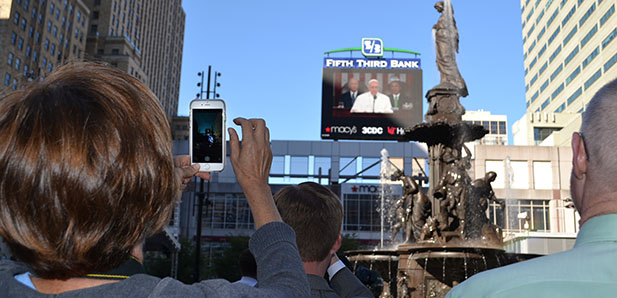 Staff Report
Our Throwback Thursday posts often stretch back more than 100 years, but today we're looking back to last week — the week Pope Francis visited the United States.
Many stories still need to be written much reflection done to understand the real importance of Pope Francis' journey, but it can be said as a matter of fact that the pope made history.
Here's a glance back at five  of the website's most popular stories from the week Pope Francis visited the United States.
1. Pope Central
This post was a repository of papal news. Every move the Holy Father made on American soil was captured here. It remains a resource link to the coverage last week.
2.  Pope Francis draws crowds throughout Archdiocese of Cincinnati
This story covered three local "watch parties" where local faithful gathered to view the pope's speeches. The primary focus of this article was the gathering of more than 400 people on Cincinnati's Fountain Square.
3. Ohioans can take pride in papal visit to Washington
Written by freelance writer Menachem Wecker, this story was a preview of the pope's visit to our nation's capital.
4. Day after papal speech, Boehner resigning from Congress
Speaker of the House John Boehner was instrumental in the pope's visit to Washington D.C. but the day after the visit, the speaker announced he was hanging up his gavel.
5. Shouts, waves greet papal motorcade
Wherever Pope Francis went in the United States, the crowds greeted him with love and enthusiasm. In this story, a CNS reporter tells of the "undulating ecstasy" displayed by those who saw the pope.
Welcome to The Catholic Telegraph's edition of Throwback Thursday. Throwback Thursday is a weekly online activity wherein users of social media share an old photo or anecdote about times gone by. We use Throwback Thursday to highlight the history of the Archdiocese of Cincinnati, and our publication.
Recent Throwback Thursdays
Make a newspaper into a papal miter
A glance at past papal pilgrimages
Did Cincinnati almost get a papal visit?
Sisters of the Poor rich in… Elephants?
Summer riding off into sunset
Posted Oct. 2, 2015