World Mission Month: A letter from Archbishop Schnurr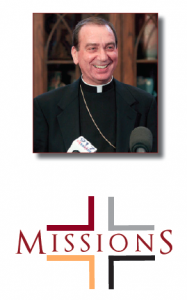 Editor's Note: October is World Mission Month. The following letter from The Most Reverend Dennis M. Schnurr originally appeared in the mission section of the October 2015 print edition of The Catholic Telegraph.
Dear Missionary Disciples,
First, let me express my gratitude to all the members of Archdiocese of Cincinnati for their substantial support of the mission work of our church. The continual, long-term generosity of our lay Catholics to our own missionaries, missionary orders, and mission dioceses is impressive. And I thank God for that.
Secondly, Pope Francis, in his message for the 2015 World Mission Sunday set for Oct.  18, notes that this celebration takes place in the context of the Year of Consecrated Life.  So I am also abundantly thankful to the various missionary sisters, brothers and priests who serve in our archdiocese, and I am grateful to those from our archdiocese who often serve in very difficult situations and places around the world.
Like the Holy Father, I urge "our young people to respond to the call with courage and zeal" and consider responding to God's call to serve beyond our borders. Pope Francis writes, "Who are the first to whom the Gospel message must be proclaimed?…it is the poor, the little ones and the sick, those who are often looked down upon or forgotten, those who cannot repay us." He adds, "There is an inseparable bond between our faith and the poor."
Thirdly, for those who are not called to religious missionary life, the Holy Father invites the laity to serve for a limited period of time with our missioners in the field. However, through the sacrament of baptism, all Catholic Christians are encouraged to continue giving generously at your home parish to the Pontifical Mission Societies on World Mission Sunday, Oct. 18. Your donation enables 1,150 mission dioceses to educate their own local young Catholics to become consecrated leaders to build up their own church communities, schools, orphanages and clinics.
I recommend your warm participation in a special World Mission Sunday event being planned for Oct, 18 to promote the coming Year of Mercy with a wide variety of local Catholics of many different cultures. You may contact the Mission Office for details below.
Lastly, I encourage you to contact the archdiocesan Mission Office for further information about joining a consecrated missionary order or a lay missionary organization. You may also ask them about parish partnerships/twining, mission trips, how to become regular mission supporter, and how add the Mission Office to your will at [email protected], or at 513-421-3131, ext. 2630.
Sincerely yours in Christ, 
Most Reverend Dennis M. Schnurr
Archbishop of Cincinnati
Posted Oct. 1, 2015