Pope Francis offers us examples of giving just a little respect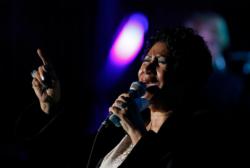 In 1967, Aretha Franklin released her hit, "Respect." Maybe the song isn't an anthem for Respect Life month, but when she sang for Pope Francis at the Festival of Families in Philadelphia Sept. 26, that 1967 song was on people's minds, if not on her lips. (Franklin had hinted that she might sing "Respect" for the pope, telling the Huffington Post that the lyrics were "already the message with Pope Francis.")
She's right; "Respect" was a theme of the pope's visit to the United States last week. As we enter Respect Life Month — with Respect Life Sunday falling this year on what is traditionally the feast of St. Francis (Oct. 4) — the pairing seems a natural. Pope Francis even brought the topic of respect to his United Nations' address Sept. 25 when he spoke of a "moral law written into human nature itself, one which includes … absolute respect for life in all its stages and dimensions."
Franklin's classic belts out the letters: R-E-S-P-E-C-T and invites us to "find out what it means to me." With respect to the Queen of Soul, it might be a lesson to see what R-E-S-P-E-C-T means to our "Shepherd of Souls," based on his words and actions while he was here.
R is for the refugees, the immigrants and "the stranger in our midst," who were defended many times by the self-acclaimed "son of immigrants" as he reminded us that we "are not fearful of foreigners, because most of us were once foreigners." (Address to the U.S. Congress Sept. 24.)
E is for the excluded: the elderly, sick, disabled and all the vulnerable. He spoke against "a relentless process of exclusion … a selfish and boundless thirst for power and material prosperity (that) leads both to the misuse of available natural resources and to the exclusion of the weak and disadvantaged" (Address to the United Nations Sept. 25).
S is for the street people, the unemployed and underemployed, the homeless — whom he visited at the St. Maria's Meals Program of Catholic Charities in Washington Sept. 24.
P is for prisoners, especially those facing the death penalty and life imprisonment. The pope noted that "it is painful when we see prison systems which are not concerned to care for wounds, to soothe pain, to offer new possibilities." (Address to prisoners at the Curran-Fromhold Correctional Facility, Philadelphia, Sept. 27.)
E is for the environment, a theme familiar from his encyclical, "Laudato Si'," but also seen when the pope told U.N. delegates that "the ecological crisis, and the large-scale destruction of biodiversity, can threaten the very existence of the human species." (Sept. 25).
C is for children, teens and their families, so many of whom met, hugged, kissed, were blessed by or held hands with Pope Francis, both along his motorcade routes, at Our Lady Queen of Angels School in East Harlem in New York and at the Festival of Families in Philadelphia Sept. 26.
T is for "The Golden Rule" which Pope Francis quoted to Congress, saying: "Let us treat others with the same passion and compassion with which we want to be treated. Let us seek for others the same possibilities which we seek for ourselves. Let us help others to grow, as we would like to be helped ourselves. … The yardstick we use for others will be the yardstick which time will use for us."
When we look back at Pope Francis' Sept. visit in the United States, his message can not only be summed up by Franklin's "Respect," but also by the song Sister Sledge performed at the Festival of Families before the pope arrived Sept. 26: "We are Family."
Not bad themes to remember as we embark on Respect Life Month.
Posted September 30, 2015