A Priests Perspective: The Joy and Delight of Your Heart

When I was a child, my family prayed the rosary daily, but during June, the month when we honor the Sacred Heart of Jesus, we prayed the "Sacred Heart Rosary." This version substitutes, "Jesus, meek and humble of heart, make my heart like unto Thine," for the Lord's Prayer, and "Sweet Heart of Jesus, Be Thou, my Love," for the Hail Mary. While we otherwise concluded the Marian Rosary with the Litany of Loreto, during June, we recited the Litany of the Sacred Heart.
Devotion to the Sacred Heart and the Apostleship Prayer were instilled in my father by the Jesuits who educated him in India. Before school each morning, my parents had us recite the "Morning Offering," which includes the words, "O Jesus, through the Immaculate Heart of Mary, I offer Thee my prayers works, joys and sufferings of this day, for all the intentions of Thy Sacred Heart …" They placed a Sacred Heart picture near my bed, and no matter where I lived, I brought that picture and taped it to the wall near my bed.
HISTORY OF THE DEVOTION

In the early 1600s, a moral rigorism arose in the Church called Jansenism, in which people looked to God with fear instead of love. They adopted a false anthropology that saw people as having a corrupted nature, such that human reason could not be trusted. With a strong emphasis on law and violations of the commandments, many priests routinely denied people the sacraments, fearing unworthy reception.
Lamenting that men's hearts, especially those of priests, had grown cold; in 1673 Jesus revealed to St. Margaret Mary His Sacred Heart to show forth God's tender mercy. St. Margaret Mary said Jesus allowed her to rest her head upon His heart, then told her of the wonders of His love and His desire to make these wonders known to all people—and He chose her to accomplish this work. Jesus revealed new devotions, including receiving Holy Communion on each month's first Friday and attending Thursday Eucharistic adoration during a "Holy Hour."
Unfortunately, from the end of the 20th Century and into the 21st, devotion to the Sacred Heart waned. Jean Galot, SJ (1919-2008), suggested around the 1950's that it urgently needed to be recovered and proposed a new reparation theology. Pope St. John Paul II strongly supported this and emphasized building a "civilization of love." To build anything though, one needs a firm foundation. Galot believed that through reparation and devotion to the Heart of the Redeemer, a solid foundation could be built over the ash heap and rubble of the 20th Century, which was marked by great wars and incredible violence.
It appears that this century's first two decades have not gone any better. There remains the urgent need to recover devotion to the Sacred Heart of Jesus— not only to make reparation, but also to understand the Divine Mercy, Jesus' humanity and His love for us. When reading the Gospels, it is interesting how often Jesus' heart is moved with compassion. If only we, His disciples, were moved with similar compassion.
It seems to me that amid this world's misery and pain, devotion to the Heart of Jesus can help us experience the joy and peace that Christ desires for each of us.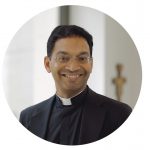 Bishop-Elect Earl k. Fernandes is the pastor of St. Ignatius of Loyola Church in Cincinnati and holds a doctorate in moral theology from the Alphonsian Academy in Rome.
This article appeared in the May 2022 edition of The Catholic Telegraph Magazine. For your complimentary subscription, click here.