A Saint in the Making: Venerable Mother Rosario


A young woman from the Philippines who left behind wealth and privilege to follow God's call for her is on the path to sainthood. Her great nephew, Dr. Chris Tuell, who lives in the Archdiocese of Cincinnati, says the faith-filled example of Mother Rosario Arroyo continues to inspire the people of her home country and his own family.
Maria Beatrice Rosario Arroyo was born on Feb. 17, 1884, in Molo, Philippines, the only daughter of Ignacio Arroyo and Maria Podal. Tuell recalls that while his great aunt's family was affluent, Maria and her two brothers were taught from an early age to share what they had and serve others. Maria, especially, had tremendous compassion for those in need, and, moved by the plight of the poor, she chose a life of poverty for herself, entering the Congregation of the Dominican Sisters of St. Catalina of Siena in Manila in 1911.
She professed vows on Jan. 3, 1914, taking the name Rosario de la Visitacion because of her devotion to Our Lady of the Most Holy Rosary. With the assistance of two other nuns, she went on to found the Dominican Sisters of the Most Holy Rosary of the Philippines in 1927, becoming Mother Rosario. Two years later, the congregation opened a charity school within their motherhouse compound.
The Second World War brought fear and uncertainty to the growing community, and while family members and local clergy encouraged Mother Rosario to disband the sisters, she responded with faith and courage. They eventually evacuated, but kept to their regular observances of prayer and community life as much as possible. By 1944, the Japanese converted the motherhouse into their headquarters, compelling the sisters and orphans to take refuge at a church in Molo, Iloilo City. The motherhouse was eventually bombed.
After the war, the congregation continued to grow, and Mother Rosario was elected its first Superior General in 1953. She went to her eternal rest on June 14, 1957, after experiencing heart failure, but her congregation kept alive desire to God's will, love for the Church and commitment to service.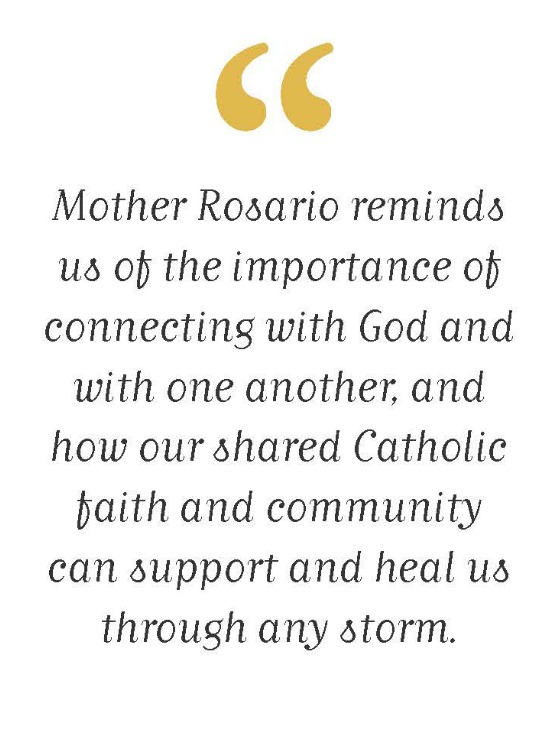 Today, the Dominican Sisters of the Most Holy Rosary run schools, colleges, retreat houses, a charitable institution and a clinic. In addition to their presence in the Philippines, the sisters also minister in the Mariana Islands, the Diocese of Ngong in Kenya, several Italian cities, and in the Archdiocese of San Francisco and Diocese of Hawaii.
While Mother Rosario led her sisters through the trauma of war, her great nephew's story was just beginning. Dr. Tuell's father, Hubert, was a GI, who took part in MacArthur's Philippine Liberation. His mother, Mariquita, was a young Filipina from Iloilo City on the Island of Panay, home of Mother Rosario. After the war, the wo began a five-year correspondence, before Hubert proposed in 1950. They had three children, Anne, William and, Chris.
Dr. Tuell, a member of St. John the Evangelist Parish in West Chester, is married and the father of four and works as the clinical director of Addiction Services at Lindner Center of HOPE.
Reports of miracles attributed to his great aunt were credible enough to begin her cause for canonization. Archbishop Angel Lagdameo of Jaro, Philippines, initiated the process in July 2009, with the official opening occurring on Oct. 7 at St. Anne Church in Molo, Mother Rosario's birthplace. Purported miracles due to Mother Rosario's intercession include a Venezuelan nun who was cured of cancer and a woman with leukemia who was declared disease-free a year after her diagnosis without having received chemotherapy or blood transfusions. On June 11, 2019, Pope Francis declared Mother Rosario to be a woman of "heroic virtue" and granted her the title Venerable. She will progress toward beautification if the miracles credited to her intercession are verified.
Dr. Tuell spoke of the influence Mother Rosario's example has had on him personally and professionally. "As a therapist who has worked in the field of mental illness for the past 36 years, I have witnessed how important it is to connect with one another," he said.
He continued, "The life of Mother Rosario has reminded me of the importance of a shared community of faith. The patients I work with who experience issues of mental illness and/or addiction, unfortunately withdraw and disconnect from others, especially from loved ones during times of struggle. Mother Rosario reminds us of the importance of connecting with God and with one another, and how our shared Catholic faith and community can support and heal us through any storm."
This article appeared in the December 2020 edition of The Catholic Telegraph Magazine. For your complimentary subscription, click here.