Advent Calendar 2020
Friday, November 27 – Thursday, December 31
International Christmas Display, Franciscan Friars
Christian Moerlein Events Center, 1621 Moore St., Cincinnati 45202
Fri 4pm-7pm, Sat Noon -7pm, Sun 1pm-7pm
A wonderful treat for the family, hundreds of Nativity sets, Miniature London Village, St. Nicholas and Santa Claus scenes, a train and much more!
***Mask Required***
Reservations, click here.
Beginning Friday, November 27
Christmas Tree Sale
St. James Boy Scouts, 6429 Cheviot Rd., Cincinnati 45247
Sat 9am-9pm, Sun Noon – 9pm, Mon –Fri 6pm-9pm
Note: Sale usually last about 15 days.
A west-side tradition, fresh cut Christmas Tree Sale by the St. James Boy Scouts.
Annual Nativities Display
Maria Stein Shrine 2291 St. Johns Rd., Maria Stein 45860
The Annual Shrine Nativities Display will begin on November 27, 2020 and be open to the public through January 11, 2021. This collection, recently donated by Tim and Katheleen Nealeigh, will feature over seventy-five nativities from around the world. It is a reminder of how the story of Christ has united people from across cultures over the years and of the peace that came to earth by the birth of Jesus. We invite all families to the Shrine to experience this annual celebration of Christmas.
Sunday, November 30
Advent Lessons & Carols
Cathedral Basilica of St. Peter in Chains, 8th & Plum Sts., Cincinnati 45202
3:00 p.m.
Outstanding Music in a Sacred Space, A must do during Advent is to listen to the great music filling St. Peter in Chains Cathedral.
Friday, December 4
Men's Advent Retreat: Join us on December 4th for a one-night men's Advent retreat at the Jesuit Spiritual Center in Milford. Arrival is at 5:00pm on Friday, with dinner at 6:00pm and then the retreat will start at 7:00pm. We will conclude no later than 5:00pm on Saturday.
Topics: Searching for Jesus like the Magi, Spiritual SWOT Analysis, and Living on Purpose. Each topic will include time for reflection, prayer, and journaling as well as time to share insights in an intimate setting. We will cover a different topic on Friday night, Saturday morning and Saturday afternoon.
All the safety protocols will be observed to keep us safe. We will be in the Arupe building and will keep the appropriate physical distance from each other. Masks will be strongly encouraged.
Contact Don Frericks to sign up or get more information: [email protected] or 513-260-7637.
Saturday, December 5th
St. Nicholas Kid's Day
Maria Stein Shrine 2291 St. Johns Rd., Maria Stein 45860
Our popular children's event is back! This year's event will be an open house from 1pm – 4pm in the Shrine's Upper Room, located on the 3rd floor. Bring the whole family to visit with good Bishop Nicholas and enjoy activities, crafts, cookies and hot cocoa!
The event is free of charge. Good will donations are appreciated.
Beginning December 5th

Monday, December 7th
First Vespers for the Solemnity of the Immaculate Conception: Monday, December 7 at 7:30 pm
Friday, December 11
Marco Panuccio presents O Holy Night, live broadcast from St. Peter in Chains Cathedral 8:00 p.m.
Saturday, December 12th.
Rorate Mass at Old Saint Mary's, 123 E. 13th St., Cincinnati at 6:45 a.m.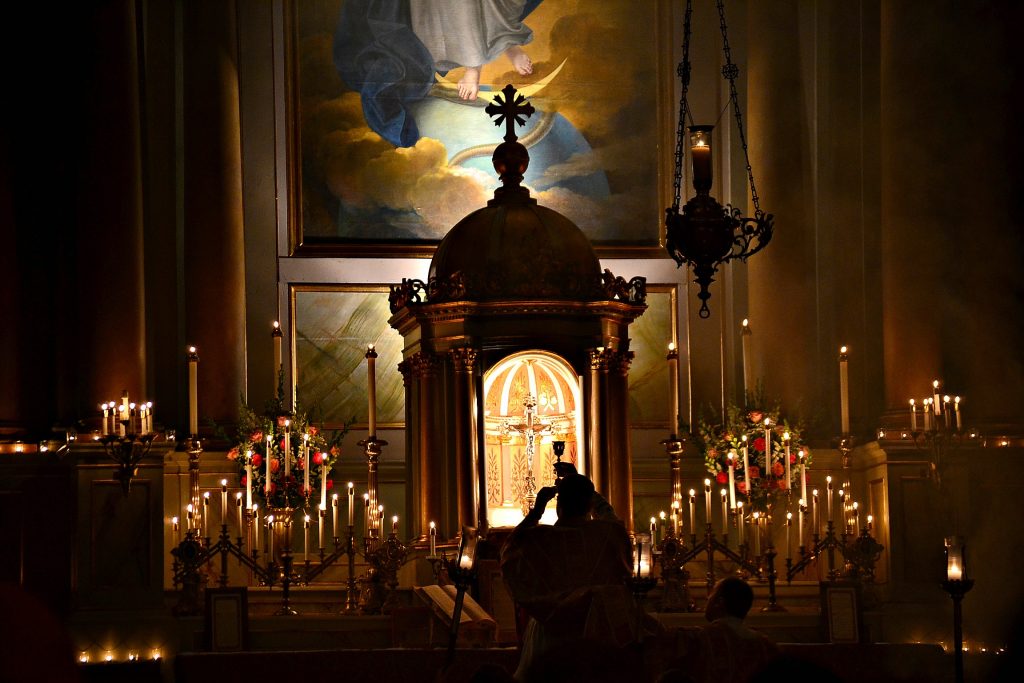 Feast of Our Lady of Guadalupe, LIVE from The Cathedral Basilica of St. Peter in Chains, 10:30 a.m.
Sunday December 13th
Lessons and Carols—Sunday, December 13th at 2:00 PM at St. Joseph's Church, 411 E 2nd St., Dayton.
A celebration and a service of scripture and song that recounts the Fall of Humanity, the promise of a Messiah, the Incarnation, and the Great Commission to preach the Good News. Each scripture lesson is followed by a carol or song that reflects the lesson's message and a brief prayer. This is a wonderful way to prepare your heart for Christmas!