Adaptive Sacrament Preparation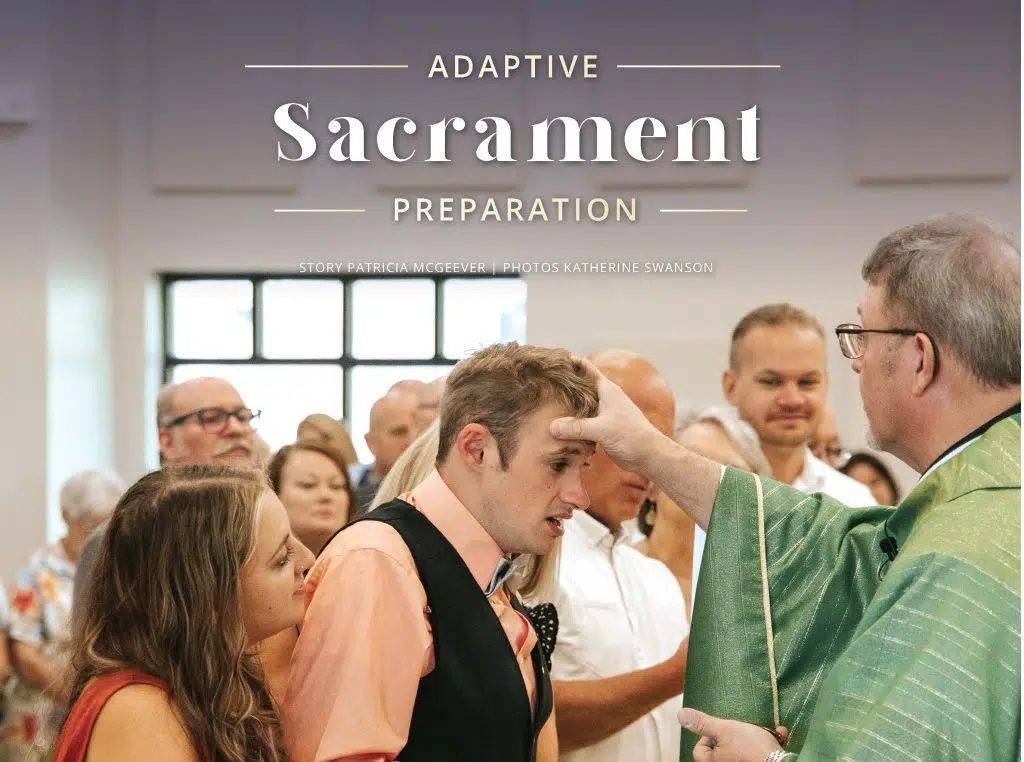 By Patricia McGeever
Bryce McBee was just a baby when his parents noticed he wasn't hitting developmental milestones, walking and talking were both delayed. At age two, he was diagnosed with Autism, and his parents, Kim and Jaime McBee, started along the path of parents with a special needs child.
On Aug. 28, at the age of 25, he will mark two new milestones, which one of his parents was told could not be permitted: Bryce will make his First Communion and receive the sacrament of Confirmation.
This day will come for Bryce because of Susan and Chuck McClure and their son, Colin. At 22, Colin's cerebral palsy requires he use a wheelchair and, like Bryce, he is non-verbal and thus communicates with a "talker" device. The families met when their sons participated in the Joe Nuxhall Miracle League, a baseball program for kids with special needs.
Both families attend, and feel very welcomed at, Our Lady of Sorrows parish in Monroe. The boys were baptized as infants, and the McBees expected Bryce to receive his First Communion in the second grade. However, they were told he was not allowed because he couldn't understand the Transfiguration.
"It made me really sad because we had a lot of places where doors were shut in our faces and I just never thought it would be church. It wasn't what I felt like Jesus would do," said Bryce's mother, Kim. "We thought, it's not in the cards for him but that's okay. We felt like he had a special grace, if you will."
The McClures never considered the possibility that Colin could receive additional sacraments, but that changed after this past Good Friday. Colin was wheeled forward to venerate the cross, the last in line, with his parents helping him reach out his hand to touch the cross.
"I noticed a lot people were emotional," said Colin's mom, Susan. "I never realized what that would mean for people at church."
The parish's Director of Religious Education took notice, too.
"The thought crossed my mind 'why isn't he receiving the sacraments?'" said Christine Baumgardner. "We should see more of this."
Baumgardner's call to the Office for Persons with Disabilities at the Archdiocese of Cincinnati got events in motion. She learned no one can be denied the sacraments simply for having a disability, as stated in the new directory for catechesis. The archdiocese is working
to raise awareness that people with disabilities are eligible to receive the sacraments.
"Sacraments are a gift of grace from God and we can't deny people a sacrament based on their disability," said Noelle Collis-DeVito, Associate Director for the Office for Persons with Disabilities.
When a person is unable to communicate verbally or nonverbally, the Church should err in favor of the person, she said. It's a case-by-case basis and sometimes the recommendation may be to delay the sacraments, but not deny them.
"This is what our Church should be," said Collis-DeVito. "Sacraments are for everybody, not just for certain people." "I'm just really excited," said Kim McBee. "It's another way for him to be involved in the community."
Colin will join Bryce on Aug. 28 to make his own First Communion and also receive the sacrament of Confirmation. That the two young men can do this together is exciting and emotional for their families. They are preparing their sons with kits that include visual aids, such as picture books, cards and puzzles that simplify the concepts. Colin is practicing at home with small pieces of unconsecrated hosts to overcome issues with swallowing and they will practice walking toward the altar. Both families say the day will be an emotional celebration for them and for their church community.
"I know for me it will be a "God moment," said Susan McClure. "I know for people in our parish it will be a 'God moment' to see both Colin and Bryce there. This is so, so special. We're grateful."
This article appeared in the October 2022 edition of The Catholic Telegraph Magazine. For your complimentary subscription, click here