Get Christmas-Ready and be a Superhero This Advent!
The Catholic Spelunker. noun.
1. a column specializing in curious exploration of fun stuff and Catholic geekery
2. a source of helpful tools and resources for living a great life
3. a bunch of stuff Dominick Albano thinks is cool
We're getting into Advent, so you know there had to be something about presents..
Different strokes for different folks. Some people want to give really meaningful gifts, some people just want to throw something in a gift bag and some people don't like doing the whole gift thing at all.
But if you're one of those people who likes to give cool gifts, CoolThings.com is your new best friend. Want to know the coolest and hottest toys of 2019? They've got an article on that.
Want a turkey carver that looks like a toy chainsaw? You'll find it there.
How about solar panel blinds for your window? Yup, they have those too.
It is easily the most interesting and amusing site to poke around when looking for unusual gift ideas. A gift from coolthings.com is sure to be the present everyone is talking about and showing off on Christmas day.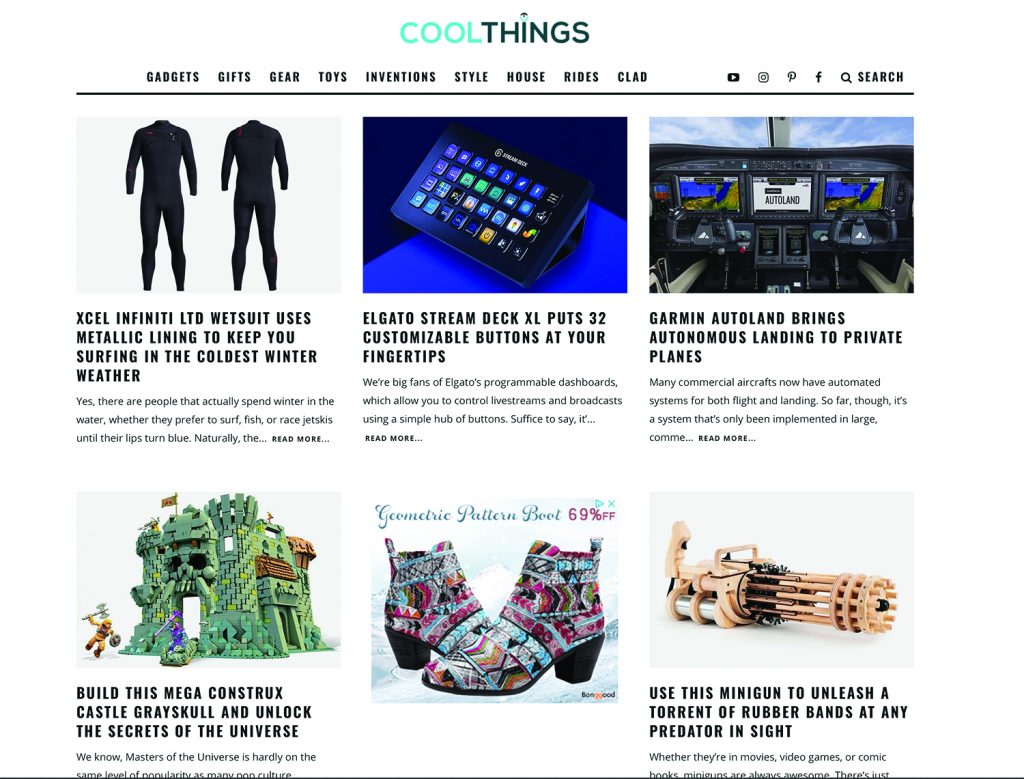 Yeah, but what about Catholic presents?
I'm a big fan of anything easy, practical and beautifully designed. A coworker recently told me about a gift she received one Christmas, and I think it's an excellent idea for Catholic families out there.
Catholic Family Crate.
Founded by a Catholic mom who felt like she wanted to promote the faith in her home – but also felt inadequate compared to all the Catholic mom-bloggers and Pinterest heroes out there – the mission of Catholic Family Crate is to transform the domestic Church by providing families with fun, interactive, and beautiful products for faith-focused activities.
Each month subscribers receive two activities, a Catholic item, a prayer or scripture passage print to hang in the home, and a Spotify playlist to fill your home and car with beautiful
Catholic music.
At $40 for one month, or $8 for digital-only, you've got price options that make this perfect as a gift for your son or daughter's family, your own family, some of your Catholic friends or even a coworker.
Visit CatholicFamilyCrate.com to find more info or order.

This kind of makes me feel like a super hero.
Ever wish you had super vision? This new tool I've been using can help you feel a little bit more like Superman. And it's free!
Google Lens
Until a few days ago, I had no idea this app existed. But the capabilities are pretty robust. Simply point your phone's camera at the world around you and see the kind of information it can unlock.
Point it at the restaurant menu to find out which dishes have the best online reviews.
Go on a walking tour, and it will tell you facts and histories of the buildings you point your camera at.
Take a picture of a book and it converts it to paste-able text.
Identify plants and animals with just the click of your camera. You can even take a picture of a product you like, and it will show you similar products available online.
Just download the Google app to start using Google Lens for free on your phone.
Visit lens.google. com to learn more.