Aerospace in the Classroom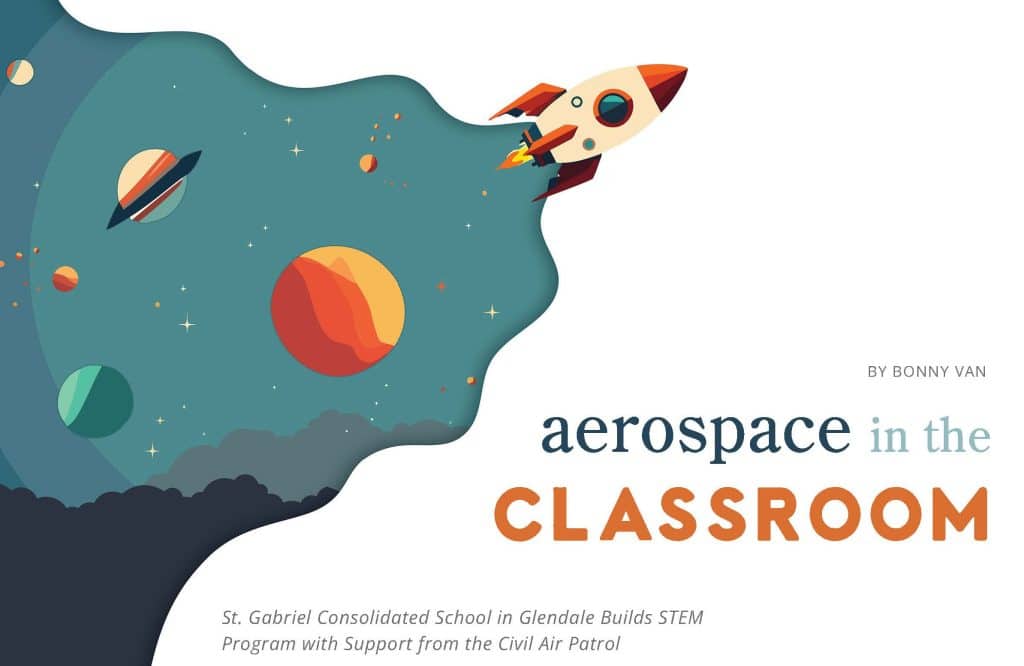 At St. Gabriel Consolidated School in Glendale, students are busy building rockets, electrical circuits, solar cars and bridges. But they're not just constructing things, they're playing and learning as they create; it's part of the school's Aerospace/STEM program, supported by the Civil Air Patrol. Coordinator Kate Szczap hopes the initiative builds a foundation for future scientists.
"The students love it, they have so much fun," Kate said.
When Kate's daughter, Courtney, became a cadet at 12, Kate became a volunteer and saw first-hand the benefits of the Civil Air Patrol. Cadets participated in community service, military-style physical fitness and civil air patrol projects. Now 19, Courtney is a student at Embry-Riddle Aeronautical University in Daytona, FL.
Kate's husband, Steve, is a pilot, and they have two other daughters, Allison, 17, and Rachel, 13. Having degrees in chemistry and biochemistry but no background in engineering, Kate was excited when she learned about the Civil Air Patrol's free Aerospace/STEM (Science, Technology, Engineering and Math) education partnership with schools.
Kate said, "I brought it to my principal [Kerry Shellton] and said I think our school should do this… you should get someone to do that. She turned around and said, 'How about you?'"
Launching the program at St. Gabriel School in 2019, Kate said it started strong, but COVID-19 curtailed STEM activities. After things opened up, "the school was [playing] catch-up," making it tough to use class time for extra activities. However, "now that we've been through it a couple of times, we're working better with [it]," she said.
"We circle the dates that Civil Air Patrol is coming to our classroom," said fifth-grade teacher Stephen Imwalle. "This STEM program encourages students to work collaboratively and to think critically. The hands-on activities are a perfect complement to the concepts we [explore] in our science curriculum."
Once a month, Kate visits each class for hands-on activities related to aerospace education, character development and physical fitness. And there are plenty of activities underway!
Fifth-graders are building their own rockets, with an April launch date. Sixth-graders are studying electricity with Snap Circuits. Seventh-grade students are using KNEX building materials to study renewable energy—they've built solar cars and are moving onto wind turbines. And eighth-grade students are applying physics and geometry to build bridges, in preparation for "bridge breaking" day when students stress test their structures.
"We are so grateful to Mrs. Szczap for bringing these lessons to our school," said Shelton. "STEM lessons are a great way for students to become confident and interested in math and science, but they also are important because our kids learn that our first ideas aren't always going to be successful. Being able to analyze an initial attempt at a problem, figure out what isn't working, and try other solutions are life skills that will benefit [them]."
A Primary Science Night in March for grades Kindergarten through third will focus on famous aviators. Older students will lead younger ones through crafts and experiments to demonstrate the achievements of Amelia Earhart, Charles Lindbergh, the Wright brothers and others.
"The program is a favorite among the second graders," said Carolyn Moore, a second-grade teacher. "The students are always engaged in the activities."
"I … know that some kids who say, 'I don't like science,' are still having fun when I'm there," said Kate. "So as long as they're not turned off by it, I consider it a positive direction to be moving in. And, I think the more they do these activities, the more confidence they'll have, knowing they can do these things."
This article appeared in the March 2023 edition of The Catholic Telegraph Magazine. For your complimentary subscription, click here.