All-Star Lineup: 9 stories connecting the Catholic community with the Cincinnati Reds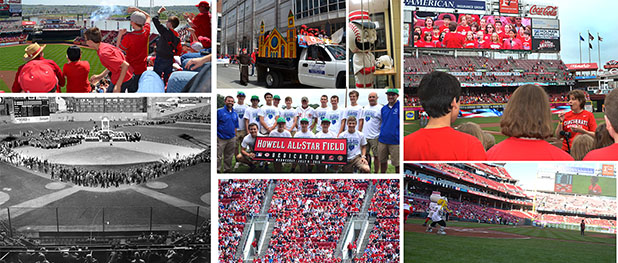 Staff Report
The Major League Baseball All-Star game will be played tonight in Cincinnati. While the Archdiocese of Cincinnati isn't directly involved with the festivities on an official level, there have been some Catholic connections.
Chaminade Julienne High School got a renovated baseball field thanks to the Reds and MLB as part of the lead-up to tonight's game, and members of the archdiocese were part of "All Lives Matter: A Social Justice Dialogue of Faith, Community and Baseball" held at the Freedom Center.
Directly involved or not, baseball is part of the fabric of the archdiocese's social life from Great American Ballpark up to the Dayton Dragons' Fifth Third Field and beyond.
With that in mind, here's a look at an all-star lineup of nine stories published here in recent years on the connection between baseball and Catholics of the archdiocese.
Leading Off: Former Reds Mascot makes connection to faith with youth ministry
Bradley Barnes, now a youth minister at Guardian Angels Church, spent time as the Mr. Red mascot.
Batting Second: Servers and sacristans enjoy game courtesy of Serra Club
The lead photo in this story shows what baseball is all about. Servers are shown cheering with reckless abandon during a great moment at Great American Ballpark.
Batting Third: St. Maximillian Kolbe kids sing at GABP
For the second-straigh year, youths from St. Max performed a beautiful rendition of the Star Spangled Banner at the Reds' stadium.
Batting Cleanup: Catholics on display in Opening Day festivities
From the 2014 Opening Day festivities, this photo gallery shows the participation of area Catholics.
Batting Fifth: DePaul Cristo Rey student throws first pitch
MaryAnn Chimusoro, valedictorian of DePaul Cristo Rey's first ever graduating class had the honor of throwing the first pitch at a game this season.
Batting Sixth: Chaminade Julienne benefits from All-Star game in Cincinnati
The Dayton-area Catholic high school owns one of nine baseball facilities to get a multi-million dollar facelift courtesy of the Reds Community Fund and MLB.
Batting Seventh: St. Ann Reds outing unique among parishes
Many parishes have Reds outings, few bring as many people as St. Ann.
Batting Eighth: Throwback; Pope Mourned at Crosley Field
From the early 1900s until around 1960 Holy Name Rallies took place around the Archdiocese. In Cincinnati, they often ended up at Crosley Field. In 1958, the celebrations of the Solemn Pontifical Requiem Masses replaced the usually festive events after the death of Pope Pius XII.
Batting Ninth: Reds Strike Out Hunger with St. Vincent DePaul
St. Vincent DePaul never ceases to work for those in need and the Cincinnati Reds have long been a willing partner.
Posted July 14, 2015