Alter student a testament to parental love, school support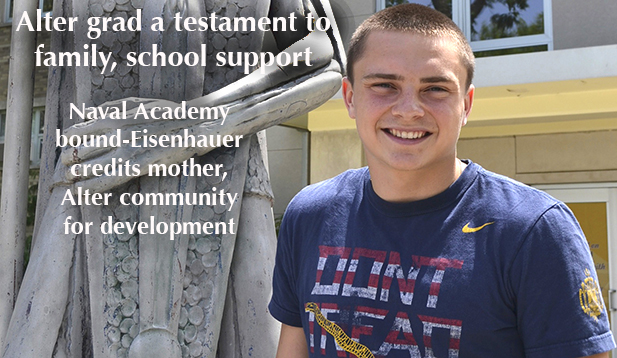 By John Stegeman
The Catholic Telegraph
The death of a parent can be a defining moment in a young child's life, but a tragic circumstance can often become an occasion of God's grace.
Andrew Eisenhauer, one of 167 students graduating from Alter High School this year, experienced the loss of his father while attending first grade at St. Charles Borromeo in Kettering. His mother, Janet, was left to raise three boys, involving all of them in the Catholic school community.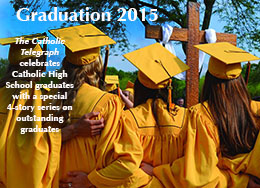 More Stories of Outstanding Grads
Moeller senior has passion for music, service
Royalmont senior literally in a class by himself
"I don't think there's ever been one instance where I can say, 'That was what molded me into who I am,'" Eisenhauer said. "Obviously losing my dad in first grade played a big role, but had I not been in the community that I was… My dad was an Alter grad so we received an overwhelming amount of support from Alter and St. Charles. I just think it's the community that I've been around the past few years that have made me into the man I am today. I'm completely confident that Alter has played a big role in it.
"The job that she's done raising the three of us has been phenomenal," Eisenhauer added of his mother. "I can't imagine the sacrifices that she made, but I'm incredibly thankful that she did."
Her sacrifices have helped Andrew to become a standout student at Alter. Carrying a 3.98 GPA, Eisenhauer has been accepted into the U.S. Naval Academy, where he hopes to study mechanical engineering.
He's been a part of peer ministry, Key Club, Kairos retreats and more. He's a captain of the Knights' lacrosse team and was a fullback on the football team that made a run to the state championship game last season.
"Andrew is just the kind of kid that steals your heart," said Alter Principal Lourdes Lambert. "He's such a quiet, graceful leader. He's not flashy. He doesn't ask for a lot of attention. He's just the person who always does what he needs to do even when no one is watching."
Eisenhauer said his four years at Alter have given him a second family.
"Being in Catholic school and being with only 167 other kids in my grade, it gives me a great sense of almost family here," he said. "The experience at Alter, with it being so small and being a tight knit community, it's something unique."
A unique factor of Catholic education is the integration of faith into the curriculum and experience. Eisenhauer, presently a parishioner at Incarnation, said Catholicism has played a role in his formation.
"I think it has done a lot of things for my faith," he said. "It has challenged my faith at times. There have been some things that I learned in these four years that I didn't necessarily agree with when I first heard them, but I think a big part of being Catholic is not just blindly following but asking questions and discovering on your own what you think of this. It has really helped me become the Catholic that I am."
Lambert noted that not only does Eisenhauer exemplify his faith, his academic prowess is well known.
"The U.S. Naval Academy doesn't accept just anyone," she said. "He's a great student but he's also always been very disciplined, even as a freshman. He just knew where he wanted to go."
"One of the biggest things about Alter is no matter what classes you take it is going to be a challenge," Eisenhauer said. "Whether it was Art 1 or AP Calculus I was challenged on a daily basis."
That Eisenhauer's parents, and all parents who do so, chose to send their child to Catholic school shows a significant commitment. Echoing the Catechism of the Catholic Church, which states parents have "the first responsibility for the education of their children," Lambert acknowledged that while students may be the ones honored at graduation, none of it would be possible without the parents.
"We could not do what we do without parental support. There is no possible way," she said. "Parents are our partners in educating the children. They're their first teachers and their most important teachers throughout their lives. We just want to support the things they put in place."
This graduation feature originally appeared in the June 2015 print edition of The Catholic Telegraph