St. Teresa of Avila, Habitat for Humanity collaborate to rehabilitate home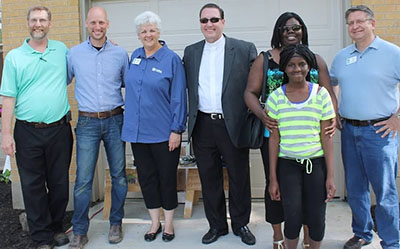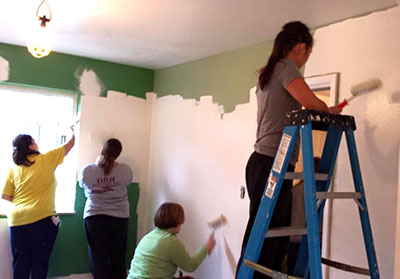 Staff Report
St. Teresa of Avila in Price Hill and Habitat for Humanity of Greater Cincinnati (HFHGC) welcomed members of the community and local dignitaries to the May 30 dedication of a home built for a family in need.
The home, located in Westwood, was rehabilitated by more than 200 volunteers for Tennille Jones and her two daughters, Ania and Jordan. The project was sponsored by St. Teresa of Avila as part of the parish's 100th anniversary celebrations. St. Teresa students contributed by making snacks for volunteer crews, and the school's teachers used an in-service day to paint the entire house.
Father Michael L. Bidwell, pastor of St. Teresa of Avila, and HFHGC President and CEO Ed Lee offered blessings at the event. Vice Mayer of Cincinnati David Mann was also present.
"This project allowed St. Teresa parishioners to express God's love in a tangible way working side by side with the partner family and at the same time getting to know one another," said Adena Warner, Faith Relations Coordinator at HFHGC. "We are grateful to partner with them in this ministry,"
The Westwood home is not the only collaboration this year between Habitat for Humanity and members of the Archdiocese of Cincinnati.
HFHGC received an anonymous check for $60,000 to build a house in honor of Pope Francis and the donor is hoping local Catholics will match the donation. Construction of the Pope Francis house, sponsored in part by by the archdiocese, will commence June 20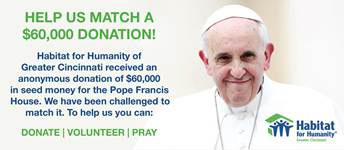 with an estimated completion date in September. Auxiliary Bishop Joseph R. Binzer will offer an invocation at the June 20 event at 9 a.m. The house, being built for Ebony Bureau and family, is located in Millvale at 1620 Hopple Court.
The archdiocese is sponsoring the Pope Francis House as part of its Food for All campaign. Food for All aims to honor Pope Francis' challenge to end world hunger by 2025.
Habitat for Humanity of Greater Cincinnati is part of a global, nonprofit housing organization operated on Christian principles that seeks to put God's love into action by building homes, communities and hope.
Posted June 17, 2015