Always more to learn about local ministries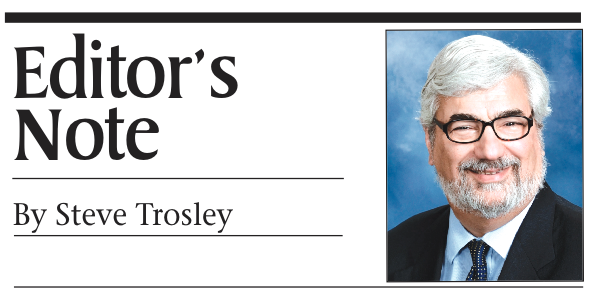 Just about the time you think you understand all the ministries operating in the Archdiocese of Cincinnati, you meet someone from a parish, school or other institution involved in an activity that enriches faith formation, evangelizes or serves the needs of the most vulnerable or takes an initiative.
Our downtown Cincinnati offices were honored by the presence of three Elder class of '48 alumni recently as the driving force behind the annual May Rosary Rally came to call, looking for some promotional help with the 2014 edition of the rally set for May 18 at Elder High School Stadium.
Joe Beyerle of Dayton, and Don (Butch) Rowekamp, Giles Langenbruner and Frank Hoffman, all of Cincinnati, are the driving force behind the rally. The next generation of leadership was also represented by Roger Glandorf, a Cincinnatian you may know from his work with Pregnancy Center West.
These gentlemen have guided this important event from its inception in the archdiocese and they're looking for a stadium-filling turnout of the faithful, clergy and religious on May 18. Can we ask you to join us in praying for excellent weather?
+ + + + + +
I have received several calls in the past month asking about organizations seeking donations that have the name "Catholic" in their names. The organizations have political goals and purport to be guided by Catholic teaching.  Alas, the fall mid-term elections are already upon us.
Because we have come to understand that claiming a Catholic identity and living the church's teachings can often be two distinct things, my callers are concerned about sending money without checking the solicitor's authenticity.
I refer you to the website of the United States Conference of Catholic Bishops — www.usccb.org — and to the navigation area at mid-page where you will see the menu, "Issues and Action." Among the categories in that menu is "Faithful Citizenship," a page that can give you considerable guidance when considering how you can exercise American citizenship in concert with church teachings.
When solicited, ask for as much qualifying information as you can get. They are asking you for your money so it's acceptable to ask them for their views and goals.
You can usually determine the nature of the group from the content of printed material. If you are still having trouble, drop me an email at [email protected] and I will see what basic information I can find out for you. Be advised I will not counsel, recommend or advise you. You have to make your own decision.
+ + + + + +
Included in this month's print edition of The Catholic Telegraph was a mail-in survey card. I ask you to help us improve our operation by taking a few minutes to share some demographic information with us. The survey can be accessed online HERE.
As the media landscape continues to fragment and diversify, we need more information to develop our content and find the best ways to serve our audience. Our ministry here is to evangelize, teach and help you develop a Christ-centered embrace of the church.
More and more of our potential advertisers, including many non-profits and faith-based companies, are turning to agencies to handle their advertising. Agencies make their decisions based on numbers — demographic numbers — and we don't have enough concrete information on hand.
We're not asking you to identify yourself and you don't have to put a stamp on the return card. This information will not be used to sell you anything and we will not share it beyond the ministries of the archdiocese.
+ + + + + +
The Catholic Telegraph family wishes you all a holy and blessed Easter and, we pray, a respite from the past winter.
++++++++++++++
Steve Trosley is editor-in-chief of The Catholic Telegraph.
The preceding Editor's Note column by originally appeared in the April 2014 print edition of The Catholic Telegraph.