St. Ignatius seeks gently used instruments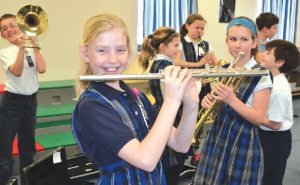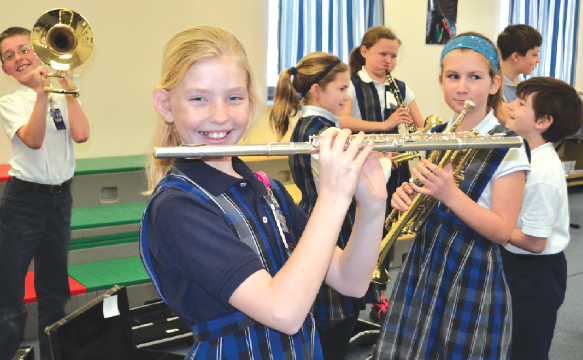 By John Stegeman
The Catholic Telegraph 
Psalm 98:6 proclaims, "With trumpets and the sound of the horn shout joyfully before the King, the Lord." If a program at St. Ignatius Catholic School in Monfort Heights reaches its goal, an entire fourth grade class will be able to follow that command.
A donation initiative is now underway at the school seeking not money, but old musical band instruments.
Principal Timothy Reilly said St. Ignatius had success adding choral courses to the curriculum after the World Choir Games, and was struck by the thought of what students could do by learning to play an instrument. A self-described aggressive person, Reilly decided to aim big.
"I thought, what would happen if I was able to put an instrument in every kids hands in fourth grade?" he said. "I bet within 25 miles of St. I's, there are enough instruments sitting in closets," Reilly said. "They're expensive, so people don't get rid of them, but they're just sitting there. I bet if we made it know that we'll put them to good use, people will donate them. It's going well."
By late February, St. Ignatius had collected at least 17 instruments through the campaign. The goal is 50. While all instrument donations are appreciated, St. Ignatius Director of Development Lynn Esmail said the school really needs flutes, clarinets, trumpets and trombones.
Since they began spreading the word in late December and early January, they've also received some unexpected donations, such as a piano and a harp. Around Christmas, a donor stepped up and committed to funding the cleaning and tuning for all the donated instruments.
In an era where some schools cut music programs in order to focus on preparing for mandatory state testing, Reilly said St. Ignatius' approach remains comprehensive.
"I think that if we say we educate the whole child, but we're only paying attention to the academic process in standard areas that can be measured, I think we're really not fulfilling our mission," Reilly said. "Music is the perfect mental exercise.You're using both sides of your brain. The research is crystal clear, and has been repeated, about the positive effects that learning to play music has on the way the brain can function. The question is why haven't we done this sooner?"
Reilly added that fourth grade was selected for the program because of past student success in learning the recorder. The simple instrument is a familiar staple to many who attended Catholic schools.
"If your kid is going to Catholic school you know you're going to have to put up with listening to a $3 dollar recorder," Reilly joked. "That's what I don't want it to be. I don't want that to be their only experience with an instrument is this plastic recorder. Not that they can't make it sound fine because some can, but if they can do that with a $3 recorder, what can they do with a saxophone?
"Our job is to help kids find their talents and develop them," he added. "If they don't ever get the chance to try an instrument, how will they know?"
The school's music teacher, Tasha Grismayer, is also the band and choir director. Grismayer said exposing children to music and developing their talents early on will be a benefit.
"We have many, many talented students in this school who may not know they can be good at an instrument," she said. "This class will hopefully spark their interest in playing an instrument and help them discover their talent.
"I am also a big believer in the best way to learn music is by doing music," Grismayer added. "By actively playing music, the students are coordinating their language, counting and motor skills to create something meaningful."
Students from St. Ignatius often participate in the parish's worship band at the Sunday evening Mass and during other liturgies. The instrument donation program and subsequent experience could give more students that opportunity.
"We even bring our band to play at Mass sometimes," Reilly said. "There's such a connection between celebrating liturgy and singing… It's just a great way to worship. Every time we use our talents isn't that a form of praise? We thank God for our gifts and use them."
To donate, contact Esmail at (513) 389-3242, or [email protected].
This article originally appeared in the April 2014 print edition of The Catholic Telegraph