Amazing Parish strengthens, energizes faith communities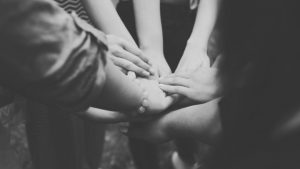 Parish teams and Catholic leaders from across the country, including the Archdiocese of Cincinnati, gathered in Atlanta March 13 to 15 to learn how parishes can become healthier.
Nearly 1,100 people attended the conference offered by the Denver-based organization, Amazing Parish, and featuring Mass and prayer, team sessions, presentations and questions and answer periods.
Amazing Parish originated in 2013 with the vision of co-founders Pat Lencioni and John Martin, who shared a desire to serve and build up the Catholic Church. Discussions with Catholic leaders, prayer and discernment led the men to recognize that the Holy Spirit was directing them take action "to uplift, improve and help parishes turn from maintenance to missionary communities." Lencioni brought expertise in organizational health and leadership to the table, and combined with Martin's business savvy, they held the first Amazing Parish conference in Denver in 2014.
Father Jan Schmidt, director of the archdiocesan Department of Pastoral Services, attended his first Amazing Parish conference in 2015, along with his staff, while serving as pastor of St. Margaret of York Parish in Twenty-Mile Stand (Loveland).
"It was fabulous, the best thing I'd ever been to put on the Catholic Church, " Father Schmidt recalled. "I thought 'we've got to do this in Cincinnati.'" He said he brought the idea to Archbishop Dennis M. Schnurr, who expressed his support.
He believes Amazing Parishes, "lights a fire under parishes to do things in a way that is truly evangelizing, that will attract people to the church and back to the church."
The co-founders of Amazing Parish acknowledge that every faith community is unique, but say they have found there are three common "building blocks" that form the foundation of an amazing parish: a reliance on prayer and the sacraments; a commitment to a healthy organization; and a passion for evangelization and discipleship. Their model provides resources to help pastors and parish staff focus on the fundamental role of prayer and sacraments in a parish; methods to achieve effective leadership and organizational health; and strategies and methods to help parishioners become missionary disciples.
Throughout the conference, Lencioni led pastors and their three to five-member parish leadership teams in interactive exercises to help them identify a vision and plan for creating an amazing parish. The conference also featured Matthew Kelly (Dynamic Catholic), Curtis Martin (Fellowship of Catholic University Students), Father Michael White and Tom Corcoran (authors of "Rebuilt: Awakening the Faithful," "Reaching the Lost," and "Making Church Matter"), Sister Regina Marie Gorman (Carmelite Sisters of the Most Sacred Heart), and Matt Manion (Catholic Leadership Institute).
Among the many insights that he brought away from the conference, said Father Schmidt, is that "one thing missing from life in many parishes is a sense of joy. People are leaving the church and going where things are more exciting, more interesting, more joyful."
Parish communities need to examine what they are doing to "exude joy and invite others to experience the joy of Christ. Prayerfulness, purposefulness, beauty…that's what people need," he added. "We have the fullness of truth in Christ, but we lost touch with how to do that well."
Father Schmidt said he is hopeful that Amazing Parish can be brought to Cincinnati in 2018, as part of the kickoff to the archdiocese's 200th anniversary celebration in 2021. "After 200 years of Catholic presence, we're at a place where we know we possess the truth of Jesus Christ and we need some help to make it known. This is one of the ways we can make that happen."
For more information, visit www.amazingparish.org.