Annual St. Anthony novena concludes with special services June 13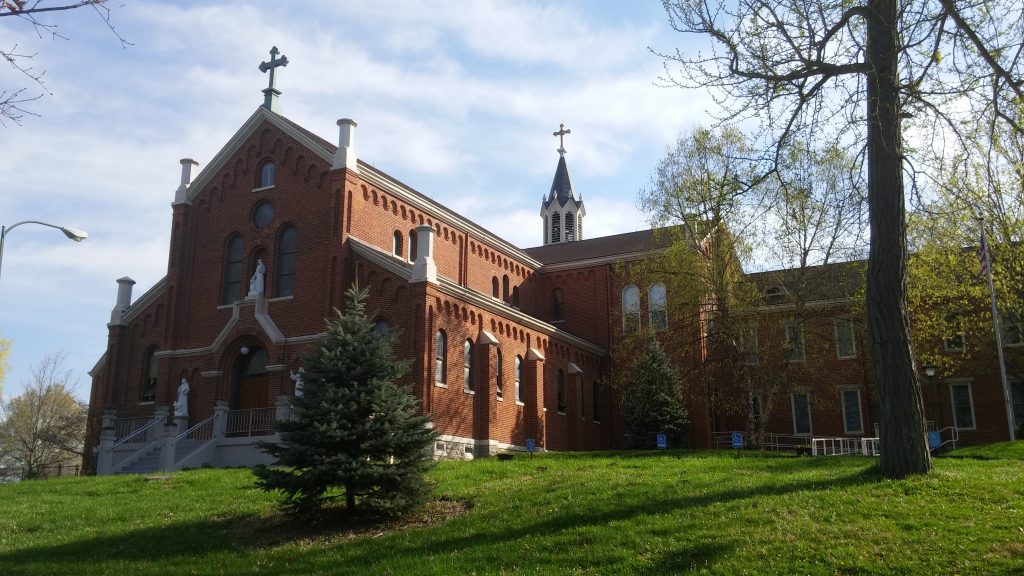 On June 13, the annual nine-week novena at the National Shrine of St. Anthony of Padua on Colerain Avenue will close with a standing-room-only chapel of pilgrims there to celebrate the saint's feast day.
"On the actual feast day, things get crazy," said Toni Cashnelli, spokeswoman for shrine and Franciscan Friary. "Busloads of people, as many as nine or 10 buses, will come to the shrine on the feast of St. Anthony with people who are there specifically to worship to St. Anthony.
"Many of these people are from the Middle East —mostly Iraq — and they have a tremendous devotion to St. Anthony. It's mostly women and children, a few men, who make up these busloads descending on the shrine all in one day. They have a number of special homilies and Masses at the shrine. The chapel is bursting at the seams. There are people sitting on the floor," Cashnelli said.
Franciscan Father John Bok said a nine week novena occurs each year on consecutive Tuesdays leading up to the week of the feast day of St. Anthony of Padua.
The 82-year-old priest, who still works a couple of days each week in the Franciscan's Development Office in Over-the-Rhine, said the novena tradition predates his tenure. But, it has grown immensely over the past decade.
With the crowd, they've added additional Masses and novena prayers different times during the day. Many people come — especially Chaldean Catholics, who came from Iraq to this country. They are of the Eastern Right," Father Bok said.
"In Southfield, Michigan, a suburb of Detroit, there are more Iraqi there than probably anywhere else outside of Iraq — certainly more Catholic Iraqis than anywhere else. A large number of them live in that city and, somehow, in the last 10 years, some Iraqi leaders up there discovered the St. Anthony Shrine here in Cincinnati and decided to do pilgrimages.
"They tend to have a big devotion to St. Anthony. Why? I'm unsure," said Father Bok. "They fill up the chapel. There are enough pews to take care of them."
"From what I've read and heard, the devotion came about a long time ago and has Catholic tradition because Mary and the Apostles spent nine days in prayer in the upper room between the time of the Ascension and Pentecost," Father Bok explained. That's what the tradition is around. The concept behind it is for people to pray steadily. "It is very intense."
"There is a focus on the novena. People will either ask for favors or grace or make petitions and ask for intercessions," Father Bok said. Some pilgrims might pray for five hours at the statue of St. Anthony.
Schedule for the Solemnity of St. Anthony of Padua June 13
7:30 a.m. Mass
2:30 p.m. St. Anthony devotions and Benediction
7:00 p.m. Mass
There will be a blessing with the St. Anthony relic and distribution of blessed bread after every service.
St. Anthony (1195-1231) was born in Portugal. He was ordained a priest and joined the Franciscans in missionary work in Morocco. Due to illness, he was forced to return home but his sailing was diverted to Italy because of poor weather. In Italy, he spent his time preaching and praying while living a simple life in cells and caves. In the final years of his short life, St. Anthony taught theology, preached and served as envoy to Pope Gregory IX. He died at the age of 35. He is patron saint of Padua and lost articles. His feast day falls on the date of his death.