Archbishop Dennis M. Schnurr celebrates Catholic Schools Week mass [Video]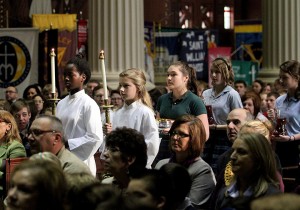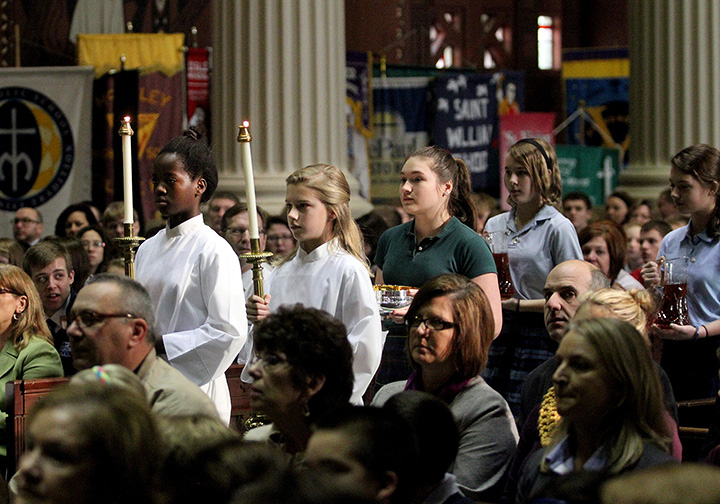 By John Stegeman 
The Cathedral of St. Peter in Chains was packed with students and other supporters of Catholic education Tuesday morning as Archbishop Dennis M. Schnurr celebrated Cincinnati's annual Catholic Schools Week mass.
(Video and photo gallery below)
The mass began with student representatives from more than 80 Catholic schools in the archdiocese carrying in banners representing their institutions. More than 20 priests and deacons from around the archdiocese also participated in the mass.
Archbishop Schnurr took the opportunity in his homily to express the purpose of education.
"Many people see it as a means of success or an avenue to land an important job," he said. "Not that those are unimportant, but over the ages education has traditionally been viewed from a much broader perspective. From the ancient Greeks to the Romans to our own Roman Catholic tradition, education has been seen has always been seen a blessed opportunity to seek out that which is good and true."
Students of all ages sometimes view school as a burdensome task, but the archbishop presented education not an obligation to be fulfilled, but as an opportunity to be grasped.
(Story continues below)
"Many people do not have the time or opportunity for education, because they must concern themselves with survival, spending their days seeking out the very basic needs of life," he said. "Understanding that education is an opportunity to seek out that which is good and true changes the way we look at school and its purpose. Education becomes something we want to do, rather than something that we have to do."
Calling on the theme of Catholic Schools Week 2013, Archbishop Schnurr said that the practice of education cannot help but lead us to God.
"For all us, education must be an opportunity to discover what is good and true," he said. "We should see this as the main purpose of education. As the theme of Catholic Schools Week reminds us, 'Catholic schools raise the standards.' Catholic school education is about vision, and invests in a vision that comes from the gospel and informs us that any sincere search for the good and the true will lead us to God, the source of all that is good and true."
Superintendent of Schools for the Archdiocese of Cincinnati Jim Rigg spoke at the conclusion of mass to thank those who helped plan the liturgy.
"And most of all a big thanks to all of you for your support of Catholic schools," Rigg said. "To teachers, administrators and staff, parents the primary educators in our homes, and for our students for the hard work, faith and raising of the standards that you do every day for your schools. I hope you will carry back this celebration to your school's to bring to those students that couldn't not be here today."