Archbishop Schnurr addresses area high school students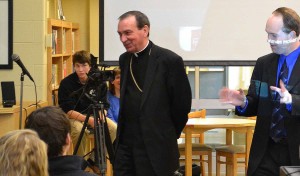 By Steve Trosley
Students from 17 of the 22 Catholic High Schools in the Cincinnati Archdiocese got a chance to question Archbishop Dennis M. Schnurr Monday as part of the observance of Catholic Schools Week.
It was the fourth consecutive year the archbishop participated in the event, which was simulcast to each participating school via the Internet.
Students asked questions about issues facing the church and issues facing the archdiocese, including one about the "Catholics Come Home" campaign. The archbishop tied his answer to the Ursuline Academy student to importance of Catholic schools saying the faith "isn't just a matter of going through the motions but understanding the motions." He said he thought it was easy for Catholics to "drift away" after the pressure of family discipline and school among other Catholics dissipated.
"If we truly understand what God wants for us and offers us through the sacraments, we will not drift away," he said. The archbishop urged high school graduates to find friends and influences that would help keep them going to Mass and receiving the sacraments. He told of a group of students at the University of Cincinnati that attends Mass and Bible study together each week. "They hold each other accountable."
A recurring theme in the archbishop's answers to student questions was that they had something to offer the church today. "You are not just the future church. We need your talents now."
He said students should not just get involved in their school. They should also become involved in their parish. "Perhaps it's time for there to be students on parish councils," he said.
He discussed several ongoing projects in the archdiocese, including the schools vision initiative, the Year of Faith and revitalizing the domestic church and explained the current status of the church with the HHS contraceptive mandate. He also responded to questions about his upcoming trip to Honduras and told the students he wished everyone could experience the joy he's found in Catholics of Thirds World nations.
Finally, he told the students, "You have much to offer the church."