Archbishop Emeritus Daniel Pilarczyk turns 80 August 12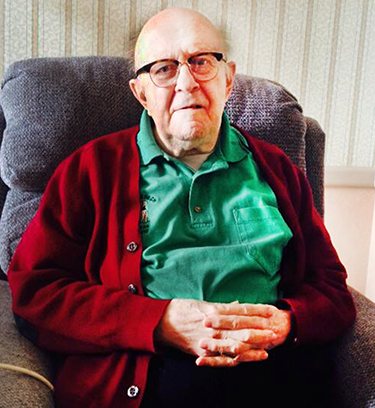 By John Stegeman
The Catholic Telegraph
With the use of a walker, and a helper at the ready, Archbishop Emeritus Daniel E. Pilarczyk made his way down the fourth-floor hallway at the Little Sisters of the Poor St. Paul's Archbishop Leibold Home for the Aged.
Despite suffering the effects of Parksinson's Disease, the archbishop was affable, alert and more than willing to make a joke during an interview with The Catholic Telegraph in late July.
For the past two years the ninth leader of the Archdiocese of Cincinnati has resided in the assisted living area under the Little Sisters' care. This month on Aug. 12, Archbishop Pilarczyk will turn 80. Later this year he will celebrate the 40th anniversary of his consecration as a bishop, the 55th anniversary of his ordination to the priesthood, and the five year anniversary of his retirement.
Archbishop Pilarcyzk was named Auxiliary Bishop of Cincinnati in 1974 and served as archbishop from Oct. 30, 1982 until Dec. 21, 2009. He served as president of the National Conference of Catholic Bishops (now the United States Conference of Catholic Bishops) from 1989 to 1992.
Asked about his health, Archbishop Pilarczyk readily admitted that Parkinson's Disease has sapped him of a measure of strength.
"I have Parkinson's Disease," he said. "I speak slowly.  So that's where we are. I'm here. I'm being taken care of. I'm grateful for the people who take care of me… They take good care of me here and they're very kind to me."
Asked, "What does an archbishop emeritus do," he said his life is not so different from that of many others his age.
"Well, I sit," he said, smiling. "I go to Mass every day. I exercise everyday. People take me out to dinner from time to time and I'm grateful for that. I don't have much energy to do much else. I go to the doctors every couple of weeks."
Archbishop Pilarcyzk noted one benefit of retirement is that he doesn't have to be completely up to date on Archdiocese of Cincinnati affairs anymore. Still, he is aware of much of what goes on.
Current Archbishop of Cincinnati Dennis M. Schnurr said Archbishop Emeritus Pilarcyzk maintains an active interest in archdiocesan matters.
"Although he has challenging health issues, he's still very interested in what's going on in the Archdiocese of Cincinnati," Archbishop Schnurr said of his predecessor. "That just shows you how much affection he has for the archdiocese, to which he has given his whole life. We are grateful to the Little Sisters of the Poor for giving Archbishop Pilarczyk such great care."
Archbishop Emeritus Pilarczyk added that his interest isn't always able to match pace with what's happening.
"I try to keep up. I am not able to keep up at great intensity," he said. "I can't do much of anything with intensity. I'm sorry for that. I'm unhappy about that but that's just the way it is."
Asked if he missed being the full-time archbishop, he answered, "Very rarely." Still, the Dayton native wishes he were able to give more to the archdiocese.
"I read The Catholic Telegraph and say, 'Oh that's interesting. Boy I'm sure glad I don't have to deal with that,'" he said. "I wish that I were more focused, more energetic. I wish that I had more time, more energy. I wish I had more to give to people."
Looking back on 40 years as a bishop, the Archbishop Emeritus said it has only become harder to be a Catholic as the Church finds itself ever more at odds with the prevailing culture.
"It is much more demanding to be a Catholic Christian today than it was 10, 15, 20 years ago," he said. "It just is."
A previous winner of the Daniel J. Kane Religious Communications Award, Archbishop Emeritus Pilarcyzk was known for his support of Catholic Communications. According to him, the media attention currently placed on the church in the wake of Pope Emeritus Benedict XVI's resignation and Pope Francis' actions have been blessings for the church.
"It is good for the church to be seen," he said. "It is good for the church to get in touch with the world."
As for himself, the Archbishop Emeritus has no big plans for celebrating his coming milestones.  He appreciates the care he is given, particularly thanking the Little Sisters of the Poor and Vicar General Father Steve Angi for being his "link to reality."
"All I can say is I try to live day by day, try to be in touch with the Lord, and try to go on from there," he said. "I'm thankful for the people who are praying for me. I'm sorry that I can't do more."
Posted July 24, 2014
This article also appears in the August 2014 print edition of The Catholic Telegraph.