Milford priest leading a donation effort for Gaza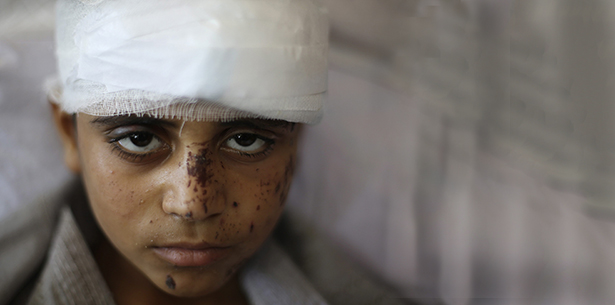 Staff Report
Though much of the world and media attention have turned to the humanitarian crisis in Iraq, the situation in Gaza remains dire as well. Father Rob Waller of St. Andrew's in Milford is doing something to help.
Father Waller is taking up a collection from anyone willing to pitch in. He has access to directly deposit the money via transfer into the bank account of Latin Patriarchate of Jerusalem, the diocesan authority in the area. All money will be sent with a note that it is for the relief of the people of Gaza, regardless of their religion.
After weeks of fighting between Israel and Hamas, one Catholic Relief Services official said Gaza is on the brink of "total collapse." The Catholic News Service reported Aug. 5 that nearly 1,800 Palestinians, mostly civilian, had been killed and nearly a quarter of the residents displaced.
"Indeed there is now a pressing and overwhelming  need for help and relief work to the devastated people of Gaza, who are living a most painful situation in the wake of a protracted war," said Father George Ayoud, chancellor of the Latin Patriarchate of Jerusalem. "Within Gaza Strip, made up of basically a refugee population, there is a tiny Christian community related to the Latin and Greek Orthodox Churches Communities."
Father Waller has visited the Holy Land multiple times and has an existing relationship with Archbishop Fouad Twal, head of the Latin Patriarchate.  Father Waller was last visited the Holy Land this past June, though he has not yet visited Gaza.
Father Waller hosted Archbishop Twal on His Beatitude's 2006 visit to the area. Archbishop Twal even baptized a child while visiting St. Andrew.
An avid blogger, (see his blog here) Father Waller has followed the situation in Gaza closely. He revealed his plan to send money in an Aug. blog 8 post entitled, "They are only children."
"I am going to wire a personal donation to Archbishop Fouad Twal of the Latin Patriarchate of Jerusalem," Father Waller wrote. "I will send my money to him, telling him that I want it to be used for the children of Gaza, and for the school and the parish of Holy Family."
To join with Father Waller's donation, make a a check payable to St. Andrew Catholic Church. The address is 552 Main Street, Milford, Ohio 45150. Father Waller plans to send the donation, along with an email to Archbishop Twal, by Tuesday Aug. 19. Father Waller told The Catholic Telegraph that any checks or donations that come late will still be forwarded.
"To give assistance to the innocent and non-combatant people of Gaza can reduce desperation and is good for both Palestinians and Israelis," Father Waller wrote. "Please join me in giving some hope by offering some assistance."
An example of one place in Gaza needing help is Holy Family Catholic Church. It is the only Catholic church in Gaza and it is currently sheltering hundreds of refugees from the crisis. An adjacent convent has been nearly destroyed, but still the church is trying to help.
Father Waller added that other local Catholic media have shared his blog post and said even a group of home school families in the northern parts of the Archdiocese of Cincinnati are looking to get involved.
"People really want to do something and they aren't exactly sure what to do," Father Waller said. "They hear about people suffering and they don't know how to help. When they're given an opportunity, especially if someone is going to put a name to it, (they will help.)"
Posted Aug. 12, 2014